When you think of Florida, you think about the beach, good times, sunny days… no wonder their official nickname is "The Sunshine State". It's a place blessed by God's light with fantastic weather year-round, happy and friendly people, a lot of diversity and culture – which normally leads to enlightenment.
But where there is light, there can be a lot of shadows. And in the shadows, lies darkness. So, lo and behold: while it's a little bit of a stretch to say Florida has a place in our Ghost Towns of America list, there are actually quite a lot of haunted houses in Florida! And I don't know about you, but to us, that makes it even more frightening. It means that however normal your hometown may look like, just around the corner there can be an old abandoned house that is haunted. What if any of its ghosts decide to take a walk and visit your house?!
If you prefer not to think about it; stop reading – what if one of the haunted houses in Florida we'll line up next is close to yours?! But then again; you might want to know so you can hire ghostbusters and priests to protect your house, right? Because the thing is: no homeowner needs to include it in their full disclosure anything about people dying in that house, so how can you tell about ghostly activities beforehand? Searching on the internet for posts like, we guess! Anyways, for better or for worse, here are our Top 5 Haunted Houses in Florida:
Kenilworth Lodge
Inns are a favorite haunt for ghosts, and Kenilworth Lodge in Sebring, Florida is no exception. George Parker, a former manager from the 1950's, is said to wander the halls of Kenilworth Lodge, doors open and close without no reason, and guests have even reported an unseen person getting into bed next to them!
All of the locals meet tales of tourists with matter of fact aplomb: "Oh, yeah, that place is haunted!", so it becomes our #5 spot in the Haunted Houses in Florida top 5.
1900 Building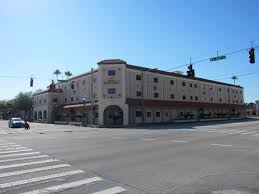 Our #4 haunted house in Florida is not a house but a building. And it's not an abandoned place. It currently houses stores and office space: it's the historic 1900 Building in Melbourne, Florida.
Originally known as the Melbourne Hotel, constructed in 1924, the 1900 Building is supposedly haunted by a young woman known as "Amelia". Legend says she lived out her short life in the hotel and died at the premises; to this day numerous people said they have seen Amelia wandering the halls looking for her lost love. Other people say the presence lingers of an old seafaring captain. So, imagine that… you go to a UPS store or something and after being taken care of by a young woman, another guy comes in and say he's the only one working there today… yikes!
Ma Barker's House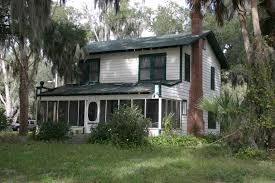 Don't know who Ma Barker is? Well, she was once America's Public Enemy #1! Ma Barker (real name Arizona Donnie Clark) was the matriarch of the Barker–Karpis Gang. If you google a picture of her, she will look like a normal lovingly lady, but she was a ruthless criminal mastermind. She along with her four sons and one of their friends were wanted for a spree of bank robberies and murders in the late 1920s and early 1930s. J. Edgar Hoover once said she was "the most vicious, dangerous and resourceful criminal brain of the decade".
Ma Barker and her sons started running away from law enforcement and wreaking havoc wherever they went. After arresting one of the Barker boys in Chicago, the FBI found a map in his possession of a lakefront house in Ocklawaha, Florida. It was Ma Barker and son Freddy's hideout. There was no surrendering, and the feds riddled the house with bullets while Ma Barker and Fred returned fire until they ran out of ammunition. Allegedly, the shootout lasted hours, with passers-by even stopping to watch it unfold. Ma Barker and Fred were found shot to death in the house, amid a stash of weapons and thousands of dollars in cash.
Many locals swear that the Ma Barker spirit still haunts the place and sometimes, late at night, gunshots are heard. But they seem to like our number #3 haunted house in Florida, as the town gathers each January 16 to do a re-enactment of the shootout!
Ashley's Restaurant / Jack's Tavern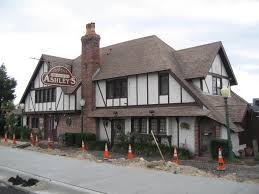 In 1934 the body of 19-year-old Ethel Allen was found brutally murdered on the shores of the Indian River. She was a regular of a bar in Rockledge, Florida. This bar – known as "Jack's Tavern" back then – is now known as Ashley's Restaurant, but the change of name hasn't pushed the ghosts away from the establishment. Since the 1930's, countless people – customers or workers – have reported ghostly activities in the premises of our #2 haunted houses in Florida.
At least one psychic has claimed to have a vision of Ethel's murder taking place in the restaurant, and many people say they have seen a young woman in the bathroom mirror. But the most chilling count comes from one manager who once saw the feet of a woman dressed in 1930's era footwear in an adjoining bathroom stall. Not only thinking it was strange (because it was the male bathroom) but also aware of Ethel's story, he swiftly opened the door of the bathroom stall only to find it… empty!
St. Augustine Lighthouse
Lighthouse: a house of light, or for light. How ironic it made it to the top of our haunted houses in Florida list, right? Well, there's a good reason for that, and you'll see.
Built in 1824 on the site of an earlier Spanish installation dating to the 1600s, the St. Augustine Lighthouse in Florida has shed its light to a lot of darkness. Right from its inception, death has lurked around the place. Three children were playing near the lighthouse while it was being built, and – because the lighthouse wasn't functioning yet, with no keeper on duty – all three children ended dying. When the lighthouse was finally completed, the first keeper's daughter died slipping on the wet rocks…and the keeper followed suit, trying to save her and drowning in the ocean. After this one: another keeper's son died the same way. So, legend says the three children now seek revenge against the keeper that should have been there and saved them. 2 down, 1 to go… so locals say kids shouldn't go to the lighthouse and keepers should not have kids! Goosebumps!
What about you? Do you know any old abandoned houses that you swear is haunted? Do you care about that stuff or you go unfazed about it? Would you live in a haunted house if the price was right? Hey, if you don't care at all, contact one of our Florida Real Estate Agents and outright ask them to find you haunted houses in Florida, oh fearless one!