Is HOUSTON, TX A Buyers Or Sellers Market?
By Vickey Wachtel
Published: Mar 28, 2023
109
With a population of over 2.3 million people, Houston, TX, is the fourth largest city in the United States, offering the excitement and vibrant lifestyle of a large urban area. One of the biggest draws of living in Houston is its diverse population. The city is a melting pot of different cultures and ethnicities, which is reflected in its food, music, and numerous colorful festivals. When it comes to entertainment, Houston has plenty to offer. From professional sports events to world-class cultural events, there's always something to do. NASA's Johnson Space Center accounts for the city's most popular nickname, "Space City". Houston is bursting with diversity and fun and has a strong job market, offering opportunities in industries like energy, healthcare, and aerospace. This attracts many young professionals to the city. Houstonians are known for being notoriously friendly and welcoming, making it easy to feel at home in the city. If you think living in a big city at relatively affordable prices is attractive, read on to learn how the real estate market is currently in Houston, TX!
Living in the Space City

Houston is a city with many reasons to consider making it your new home. There are so many extraordinary things the city is proudly home to. If NASA's Johnson Space Center wasn't enough, Houston is also hosting the world's largest medical center, the Texas Medical Center. The city welcomes millions of visitors per year. Its Museum District with 19 museums and galleries, together with the amazing local cultural life, are among the major drawing forces.
Culture, medicine, and research are important focal points of the city, but so are the culturally diverse food scene and nightlife, which are among the trademarks of life in Space City.

Houston is regarded as one of the most affordable metropolises in the States. Housing prices are generally lower than in other similar areas, but groceries, utilities, and healthcare are also lower in Houston, thanks to its great amenities. The lack of state income tax in Texas is also contributing to the affordability, resulting in significant savings over time.

The current real estate market situation in Houston, TX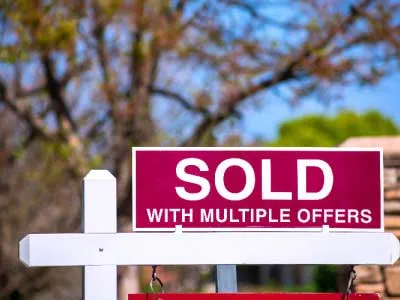 Compared to other major cities in the United States, Houston is considered to be relatively affordable. Housing costs have been known to be lower than in many other similar cities. As of recently, the housing market has been showing to be somewhat competitive. Last month, the average sale price of a home was $315,000. Based on the data of all the homes sold in the past 12 months, the median sale price is $332,317, up 2.3% since last year. This shows that the real estate market in Houston, Texas tends to be more of a seller's market right now. The inventory is starting to grow gradually, with 8,821 homes available for sale in February. Homes in Houston are selling fast, with most of them finding a new owner under 30 days on the market. It's a good time to sell, but it also might be a good time to buy because 64.2% of homes have been sold under the asking price in February.
Overall,
Living in Houston can be a unique and rewarding experience for those who are up for the challenge of living in a large, diverse, and definitely dynamic city. Currently, the real estate market in Houston is showing to be a seller's market. If you are considering buying or selling in Houston, Texas, please do reach out to me for more information on how the real estate market is changing right now. I am happy to answer any questions and help you find the best deal possible!
Other articles from: Vickey Wachtel