Where Is The Best Area To Live In HOUSTON, TX?
By Vickey Wachtel
Published: Jan 24, 2023
123
Houston, Texas, known as the " Space City," is the fourth-largest city in the United States and the largest city in Texas. Known for its diverse population and culture, Houston is home to the Johnson Space Center, where NASA's mission control is located, and the headquarters of many oil and gas companies. The city also boasts a thriving arts and theater scene, as well as numerous parks and outdoor spaces, including Buffalo Bayou Park and Gerald D. Hines Waterwall Park.
Houston is also home to many renowned museums, including the Museum of Fine Arts and the Museum of Natural Science. With its rich history, diverse culture, and thriving economy, Houston, TX, is a dynamic and exciting place to visit or call home.
Living in Houston, TX
One of the best things about living in Houston, TX, is the abundance of culture and entertainment.
The city is home to world-class museums and performing companies like the Houston Symphony and the Houston Ballet. Houston also has a vibrant theater scene, with the Tony Award-winning Alley Theatre and the Hobby Center for the Performing Arts.

Houston is also a food lover's paradise, with a diverse culinary scene that ranges from Tex-Mex and barbecue to sushi and Thai. The city hosts several celebrated restaurants, including James Beard Award-winning chefs.
Additionally, Houston is known for its bustling bar scene, with everything from dive bars to rooftop lounges.
Houston is an excellent place to live for outdoor enthusiasts. The city has over 150 parks, including the massive Hermann Park. The city has many popular hike and bike trails and is home to the Bayou Greenways 2020 project, connecting over 150 miles of bike trails around the city.
Houston's cost of living is relatively low compared to other major U.S. cities, making it affordable. While living in Houston, TX, you will have the taste and the amenities of a global city, but with reasonable costs.
Best areas to live in Houston, TX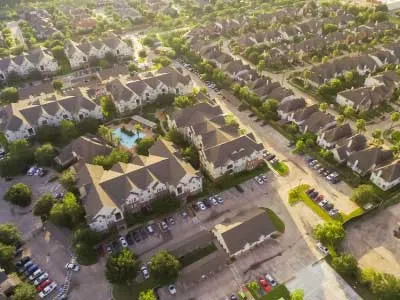 Houston, TX, offers a diverse range of neighborhoods to call home. Houston has something to offer everyone, whether you're looking for a bustling downtown scene or a more suburban feel.
With so many excellent choices, it's hard to pick a location. Thus we've gathered the best areas to live in Houston for those seeking excitement and thrill and those looking for a quieter life.
One of the best areas to live in Houston is the Montrose neighborhood.
Known for its eclectic mix of homes, restaurants, and shops, Montrose offers a unique blend of urban living and suburban charm. The area is also home to several museums and art galleries, including the Houston Center for Photography and the Menil Collection.
Another great place to consider is the Heights, known for its historic homes and tree-lined streets. The Heights is home to the Heights Hike and Bike Trail, which provides residents access to miles of trails for hiking and biking. It also offers a variety of dining and shopping options, including the famous Heights Mercantile shopping center.
The Memorial area is an excellent option for those looking for a more suburban feel. The Memorial area is known for its large homes, parks, and excellent schools. The site is also home to several shopping centers, restaurants, and Memorial Park, which offers miles of trails for hiking and biking.
Another excellent option for those looking for a suburban feel is the Sugar Land area, located about 30 minutes southwest of Houston. Sugar Land is known for its excellent schools, parks, and recreational activities, as well as its numerous shopping and dining options.
Houston, TX, is a vibrant and diverse city that offers something for everyone. Houston has many areas to call home, from the bustling downtown scene to the more suburban neighborhoods. Whether you're looking for a neighborhood with a strong sense of community, excellent schools, or access to outdoor recreation, Houston has it all. The city's diverse culture and economy make it a perfect place to live, work, and raise a family.
If you're interested in buying, renting, or selling a place in this beautiful city, don't hesitate to reach out to me. I will be happy to provide you with more information about the best places of interest.
Other articles from: Vickey Wachtel