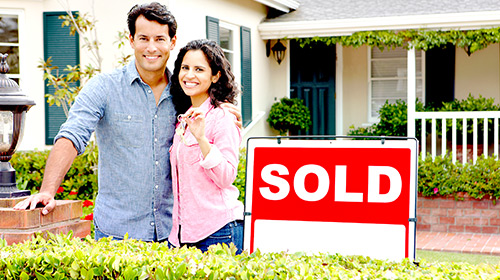 Home seller tips
Proper preparation will help your home sell faster and for more. Get advice from professionals.
Do you remember the first impression you had when you bought your house? Maybe the wall color in the bedroom stood out or some weird tiling choices. When it comes to home buyers, interior design ...
Living in a society based on consumerism, we are used to everything we buy being in perfect shape. We send back articles of clothing that don't fit instead of altering them at a sewist; We ...
From the perspective of a home buyer, the position of a real estate agent can seem unjustified in its existence. Why in the world would you pay someone 6% commission on the total sale price of your ...
For a person who's got an enterprising spirit, the world is full of money-making opportunities. From investment to entrepreneurship and good old-fashioned hard work, there is almost no set of ...
45% of property managers have expressed the desire to improve efficiency. To make efficiency a reality in your property management role, you will need to keep up with the latest tools to make your ...
In the USA, buying a property usually means entering into a freehold. This means that you have bought your own home and the land it sits on. Once you have paid off the mortgage, it will be yours ...
As a well-established convention in the sphere of real estate, the sight of an open home being hosted by a local real estate agent is not at all uncommon. If you were to drive through an average ...
If you live in a residential neighborhood, there's a good chance that you've had to deal with neighbors who don't respect your privacy. Whether they're peering through a ...
I guess you got to that point when for whichever reason, you need to say goodbye to the old and a big, bright and glamorous hello to the new. These moments come at certain points in ...
Just south of Washington D.C. is the small unincorporated census-designated area of Fort Washington, MD. As the capital, its location is on the right side of the Potomac River and there are around ...
Being a real estate agent kinda makes you the go-to person for friends and family who are looking into buying or selling a house. When you find out that a friend of yours is going about selling ...
Being a homeowner after many years of moving from one rental to another is probably one of greatest accomplishments a person can feel. Also, during our lifetime we will be faced with the decision ...
The state of Florida also known as the "Sunshine State" is renowned worldwide for its touristic attractions. World-class beach experience, dining, and amusement parks are just some of ...
When one chapter ends, another one begins. Foreclosures are simply that: fresh new beginnings. Of course, it can bring you down for a while, it may have a negative impact on your credit score for ...
What really increases the price of the house is its location. So, if your house is not on an exotic beach, we will tell you how to bring the sea to your house. Stay with us as we look at the ...
What do you do when your listed house sits on the market way longer than you anticipated? It's time to get creative and try some alternative ways to sell your house! According to major listing ...
People fear the unknown; there is no shame in admitting it. Legal language, banking terms, real estate jargon: each of these domains revel in juggling with far-fetched terms and notions. All are ...
There has been a revolution going on when it comes to those traditional for sale real estate signs. Instead of the boring static old for sale real estate signs, savvy real estate agents and ...
We've made several articles in the past regarding things that home sellers should do to sell their house. We gave home staging tips and tricks, advice on how to optimize your next open ...
From time to time, homeowners wonder if it's the right time to sell their house. They look to the sky and say "God, if this is the right time to sell my house… just give me a ...
Although the biggest chunk of home buyers are thinking about long-term commitment – buying a home where they'll grow old and raise their children or buying a home where, hopefully, ...
They say April showers bring May flowers, but in many parts of the USA the month of May in general has a lot of rain, so we guess June is the month bringing them. Regardless, most of us know that ...
We've talked about how to increase your home value with some home improvement ideas, but the truth is that they can be quite costly. Sometimes we just don't have the money to change ...
It's a given. Whenever we decided the time to sell a house is getting closer, we think about all the home upgrades we could make in order to spike up our asking price. It's also a given ...
There are a few reasons why real estate investors choose furnished homes instead of "naked" properties when playing the landlord role. Sometimes its because they intend to attract ...
This one is not for the faint-hearted; walk away if you don't want to hear the truth: the reason a real estate agent throws an open house event is not selling the home. Well, at least not only ...
One of the many advertised reasons to get solar panels to a home is the fact that it increases the market value of the property. Although in a broader sense not only solar energy but all type of ...
Last year, sellers sold 5.45 million existing homes in the United States. This year, projections suggest that number will rise to 5.78 million. With a promising outlook for real estate in 2018, ...
Where do their duties collide? Who's got the most power? Can one agent act as both? Pick your side and place your bets; the real estate fight of the century starts now! Ok, now that we got ...
Open Listings, Net listings, Exclusive Right to Sell Listings, Exclusive Agency Listings, Dual Listings… feeling you're getting drowned by so many different types of Listing ...
When buying or selling a home, finding a real estate agent is a good way to get the job done quickly, efficiently, and responsibly. Real estate agents are trained to market, sell, and close deals ...
When selling a house, homeowners often follow a 'checklist' of sorts to make sure that everything is spic-span to help in wooing potential home buyers. Landscaping, repainting, ...
Rehabbing a house for sale purposes is an entirely different ball game than renovating a home for living purposes. Where you might have no problem dropping twenty grand to personalize a home how you ...
When refinancing or selling your home, the lender will want an appraisal to determine the home's value. Usually it must appraise for at least the amount of the loan. The lender will send an ...
Wondering why use a real estate agent when you can do it all by yourself? Surely going the For Sale by Owner (FSBO) route can save you a lot of time and money, right? You can maximize profits by ...
From Dallas to Dubuque, homesellers DIY their way to speedy, satisfactory sales - but what should you focus on and what should you leave to the pros? If you are preparing to sell your home and are ...
For decades, buying a home was a home buyer beware business - sellers didn't have to tell the purchaser a thing. Termite damage? Hush-hush. Leaky roof? Make sure to show the home when it's dry ...
Many wannabe first-time home buyers and sellers alike wonder who should pay what costs for on the wonderful day that both parties seal the biggest deal of a lifetime. As virtually every item is ...
If you are looking to buy a home and already own one, the age-old question is whether you should sell your home first before you buy a home. There are pros and cons to selling first just as there are ...
Homeowners in the market to sell their property will likely engage in hosting an open house. The leading reason is to secure contracts. The next is the opportunity to showcase it to serious home ...
New home buyers to the housing market do not always realize that to buy a home means competing with other interested parties. Placing a contract on a property is one phase in the process. Taking ...
When it is time for homeowners to sell their property, there are a variety of tactics and strategies to employ. These ideas should secure the most lucrative asking price as well as move the home ...
Buying and selling a home requires the professional services of a real estate attorney to ensure due diligence is used throughout the transaction. This includes filing the appropriate paperwork, ...
There are a variety of options available to buy a home. Depending on the home buyer's financial picture, possibilities exist to save money over the short-term, while long-term options provide ...
The home buying process can be a long and daunting process that involves quite a few steps. Things such as estimating your principal, taxes, interest, and insurance, along with the type of insurance ...
So, you are ready to take the big step of purchasing a new home. You've met the home seller, examined the property and neighborhood, and decided that you've found the one. You come to an agreement ...