How Are The School Districts In SAN ANTONIO, TX?
By Diana Staley
Published: Sep 06, 2022
401
If you're planning to move to San Antonio, Texas, and you have plans to start a family or already have a couple of little ones running around you, looking up school districts before you decide on a neighborhood might be a good idea. After all, we all want our children to have access to the best education available in our cities. The local real estate agents in San Antonio TX told us that the added benefit of high-quality school districts is that they can improve your home's value.

So, what should you expect from the following part? Well, I'll take you through the best school districts in San Antonio, TX, to give you a general idea about them. Well, firstly, unlike other major cities, San Antonio doesn't only have one traditional district but 17 Independent School Districts (IDS) in total. I follow various of these ranking systems, which measure the scores of these districts. With the help of those scores, I can help you decide which district is best equipped to provide your children with the best education available.

Best San Antonio School Districts in 2020
Aside from the quality of education your children will receive, and the market value of the property you purchase, homes in good school districts sell faster. There's also the belief that homes that are sold in good school districts have better neighbors. In the end, whichever is your reason for wanting to live in a great school distinct, I looked at the data and found the following. Up next, I'll give some general information about the best school districts in San Antonio, Texas, so that you know what your children can expect from their schooling.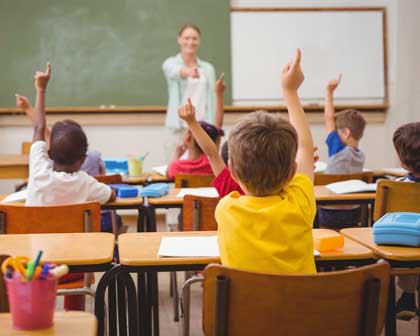 Boerne Independent School District
Aside from coming in at number one in the San Antonio school districts ranking, Boerne ISD is also recognized among the top school districts in the state of Texas. With an academic performance score of 10 and an accountability grade of A from the Texas Education Agency, the students served by Boerne ISD can achieve high academic performance among other districts in the state. Within Boerne ISD, a total of five elementary schools, two middle schools, and two high schools operate for a total of 8,700 students. Furthermore, on the Texas Education Agency State of Texas Assessments of Academic Readiness (TEA STAAR), Boerne ISD scored 91 out of 100. The student-to-teacher ratio is 17 to 1, with 68% of the students proficient in math and 67% proficient in reading.
Alamo Heights Independent School District
At number two is Alamo Heights ISD, with academic performance of 10 and a Texas Education Agency accountability grade of B. With only four schools in this district, the Alamo Heights ISD is comprised of two elementary schools, a junior high school, and one high school that provides educational services for approximately 4,800 students. The student-teacher ratio is 15 to 1, and state scores attest that 61% of the students are proficient in math, while 63% are proficient in reading.
Randolph Field Independent School District
On number three, we have Randolph Field ISD with an academic performance score of 10 and a Texas Education Agency accountability grade of A. There are only three schools managed by the Randolph Field ISD, an elementary school, a middle school, and a high school. In this district, the student-to-teacher ratio is 15 to 1, and the relatively limited size of the district, around 1,400, creates a tight-knit group of students that work together to improve the community. Approximately 67% of the students are proficient in reading, while 72% are proficient in math.
Overall, we can say that the school districts in San Antonio are well rounded, providing advanced academics, after-school activities, athletics, career & technical education, the possibility for dual language learners, and STEM courses. Hard work brings about high ratings from both the students and the teachers in these schools. This education-rich city thrives based on the achievement of a robust public school network and a well-balanced community that wishes to continue to develop San Antonio, Texas, as one of the best places to live in Texas.
Other articles from: Diana Staley