Oct 25, 2018
Halloween is great. But do you get a stomach ache? It's just SO.MUCH.CANDY! And what do you do to get rid of all the candy your kid gets? Do you eat a bit of it yourself? Do you sneakily throw some of them in the trash? Kids notice that; so you need to have a plan to do that daily in a way they don't take note of the shrinking amount of candies. Ah, it's just a mess...
How do we reconcile the Halloween traditions with the need to give healthier food to kids? Is there a way?
Yes there is! In the end, it's all about the fun of it. So we've come up with a few suggestions of themed foods that are still delicious but not that trashy that your kids will like.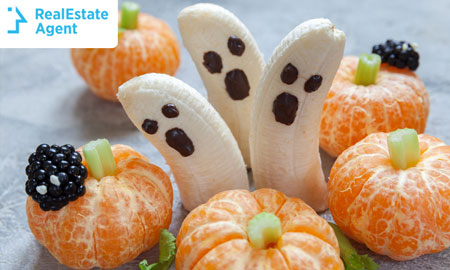 The first Halloween recipe is the one in the main picture of this post. It's super simple to do it and it will make your kids excited about Halloween. All you need to do is put your aesthetic skills to the task. Get a nice blue plate to serve as the canvas and start to assemble your masterpiece: First, put a heated round waffle to act as the full moon. Get some chocolate bars and crush it; put beneath the waffle moon as if it was the dirt. Flying above the moon, assemble a few bats by getting sets of three raisins. The piece of tangerine in the picture… well, we wouldn't put it. It makes no sense to the dish's taste and aesthetic. Like, how come there's another moon? We figure it's there because, aside from the bananas, it's mostly chocolate so the fruit gives a little "fit" feeling to it. Alright, suit yourself, then. But let's talk about the ghost bananas now! Get one banana, slice it lengthwise. Halve them through zig-zag cuts. You will have 4 slices of banana now, right? You only need 3, so give yourself a treat and eat one of them. Now get a Nutella jar and make two eyes and a scary mouth. Put the banana ghosts flying over the waffle moon. Your kids will freak out with this as their breakfast!
To decorate the house, you can do a variation of this Halloween recipe. Get the bananas but instead of cutting lengthwise and zig-zagging it, leave them whole and just cut the bottom of it so they can stand on their own. Make the Nutella mouths and eyes. Peel some tangerines to act as pumpkins. Cut a little bit of celery and place it atop of them as if it was the pumpkin stem. Make little concentrations of it (just like in the picture at the right and spread through the house).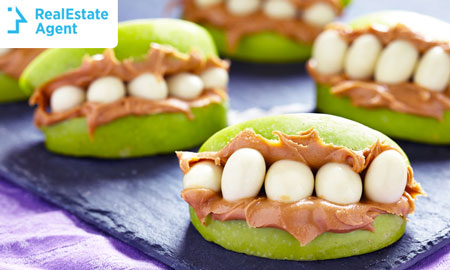 For the trick or treaters, why not make a fun, delicious but a little less industrialized Halloween recipe as treat? These green apple Frankenstein mouths are very visually enticing and make for a delicious (and actually very nutritious) treat for kids. Thick slice green apples lengthwise, get two slices and glue them together with either peanut butter or dulce de leche. Do it with no finesse; the more it drips outside of the void between the slices the cooler it looks. Make the teeth with chocolate eggs and stuff them between the slices. Try using the same color (white) but one or two yellow ones might give a nice twist to it.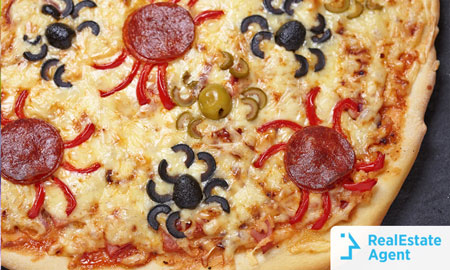 And if that much sweetness, regardless of being natural sweetness, is giving you a stomach ache already; what about doing something salty to eat at dinner with the kids, but still maintaining the Halloween theme? Get a pepperoni pizza and add spiders to it! Slice red peppers thinly and dispose them around the pepperonis as if it was the spider's legs! Don't eat meat and need a veggie version? Do it with the black olives; it's very simple: put a few whole olives on top of the pizza – it will be good to give a round shape to the spider; makes it more believable. And then get another olive and slice it. Get the slices and dispose them around the whole olive to make the spider's legs.

We hope you've enjoyed our Halloween recipes "tricks" and put it to action! The kids will get "scared" at how cool you are! Happy Halloween!