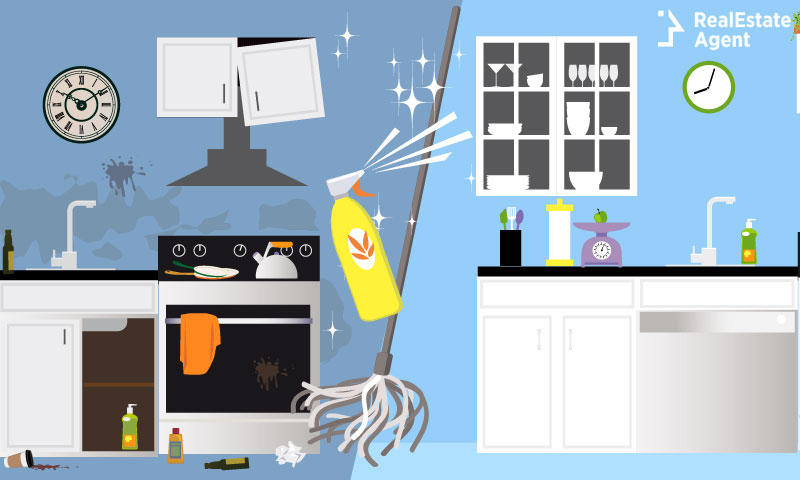 I guess you got to that point when for whichever reason, you need to say goodbye to the old and a big, bright and glamorous hello to the new. These moments come at certain points in everyone's life when a change is about to happen and you'll find yourself moving on while moving out. Your house was your home, your family's nesting place, your children's growth measurement, but you will keep all of that and take it with you into your next home as memories. Now we need to figure out how to make the jolly, old bird with shingles more presentable and trendy for the new owners.
A big change does not have to come with pocket change returns or loss of money on your part and we can help you there. You can even be advised by some of the best real estate agents in your area, just take a look at The official Real Estate Agent Directory® and find a realtor to guide you along. With years of experience, they can also show you how to add value to your home. We'll, however, go over a few of the best home improvements to increase the value of your property, some cheap ways to increase home value. If you're wondering what home improvements add the most value to your home you should also be aware that in order to gain value one must invest. Think of it as a gentle facelift to hide some of the wrinkles and make others see the beauty and warmth that you see in the old bird.
While many real estate renovations aren't worth the hassle and might waste money without managing to add value to your home, the following are analyzed and proven across the U.S. These small, particular improvements are not just some cheap ways to increase home value, but they also increase home life value.
Garage Door Replacement
One of the best renovations to do before selling is investing in a new garage door or simple renovation ideas. Why you might ask? Well, it ensures safety, has a warranty and, in most instances, it can be a very visible improvement for the aspect of your home. It might even be the first or second element a potential buyer sees when first looking at your home. This is why it is important to be in top condition as cars, as well as other valuables, will be placed there. For an added aesthetic value you can look at garage doors that have windows in the top panel as well. While this is an investment that you could overlook, the added value and final return are worth it. With an estimated expense of $3,600, you will get around $3,400 on the resale which is around 94%.
Manufactured Stone Veneer Siding
In order to appeal to potential buyers, you might also look into a whole facelift for the exterior of your home. The most attractive combination currently is rustic and modern. While complete opposites the two complement each other perfectly. A partial stone or manufactured stone veneer siding will add millions to the aesthetic value and the actual value of the home.
Think of adding stone veneer that only surrounds the front door and maybe, for some extra investment, also a two-three feet high stone veneer siding at the base of the home, all around the house or only on the front door. With an estimated cost of around $2,000 for around 100 sq feet, you will get around $1,900 on the resale which is around 95%. This can also be turned into a DIY if you have had some experience with DIY projects in your home and like to get hands-on experience.
Update the inside

This does not mean renovating the whole interior of your home. What it means is to do an update on the interior of your home. It can be a fresh coat of paint if it is necessary but it is very important to be careful with the color. For reselling a home there is no need for personalization or your favorite color in the bedroom. If you want to know how to add value to your home you should go for natural colors, an off-white, plain white or warm pastels.
Other things to consider are aspect, clusters and arrangement of furniture which are some great winter home improvements. There is no need to go bold with ornaments or colors as that might deter potential buyers. Clean, spacious and elegant are what the interior of the house should inspire. The estimated cost of repainting can be around $2,000, depending on the size of the home. If done properly this can bring a revenue higher than the cost. However, it is risky as the new owners might also renovate when they move in which is why a fresh coat of paint is not required unless visibly necessary.
DIY your garden/balcony
For any kind of outside activities, if there is a yard, it should be a safe, risk-free area, spacious and clean. This, generally means, gardening. Get a shovel and a rake in order to start cleaning the back and front yard. If for any reason you feel like you might need professional assistance, contract a gardener. A clean back and front yard are very inviting and appealing as it lets the mind wander to summer days, drinking a cocktail in a lawn chair or snowy winters, building a snowman with your kids.
Seeing a backyard that is filled with overgrown weeds, or messy and unsanitary, won't make anyone think of cocktails or snowmen. As for the balcony, even something as simple as making a couch from old tires, pallets or an old crib. Any of these can add a lot of value for condos and make a plain concrete balcony feel more inviting. You should also look into some outdoor lighting placements for either your yard or balcony. The investment here is small if there is any and these are some cheap ways to improve home values before reselling.
Kitchen and Bathrooms

This is as clear as it can be. Any real estate agent will also tell you that kitchens and bathrooms sell a house. There is no need to upgrade everything in your home to the latest trend in appliances. A splash of paint on the cabinets, new or fixed fixtures, and a thorough cleaning are some easy DIY's that will help a lot. Changing tiles, painting (unless necessary) or updating all the appliances will be costly and, once again, the new owners might not like what you choose. Imagine buying new, smart appliances and getting a buyer that's into a more vintage style. Make sure the fixtures work properly, that the kitchen counters are clean and unburned, and that the tiles don't have grease stains on them. Get to scrubbing. The investment here is minimal and it only depends on whether or not you're changing anything. Large updates are not recommended as they might not add revenue to the resale.
Conclusion
Whenever you're looking at renovations that would add value to your home before a resell, be aware of the rule of thumb. The maximum amount invested for resale renovations should not be higher than 10% of the actual value of the house. Values higher than that might make a bit of a hole in your pocket and you might not get the investment back upon reselling. A real estate agent can help you with all of this and so much more which is why you shouldn't hesitate on contacting your local realtor. Four out of the 5 best home improvements to increase your home's value can be DIY projects but it's up to you to figure out which ones are projects that you can handle. Before you start any DIY project you should know your limits and be aware of your capabilities. Not everyone is born with a nail and hammer in hand so pace yourself and don't hesitate to contact a professional if you wish. Just think of the added value if all you have to worry about are the materials.
Completing all the home improvements we mentioned above are not necessary however will add value to your resale. Make sure to pay close attention to your budget and keep in mind that this renovation isn't for your liking but for the potential buyers. Aim for a neutral aspect, nothing too flashy and warm.
Leave us a comment below and let us know which home improvement seems more approachable for you both in regards to value as well as personal abilities. Like & Share with friends and family for information about cheap ways to increase home value before a resale.