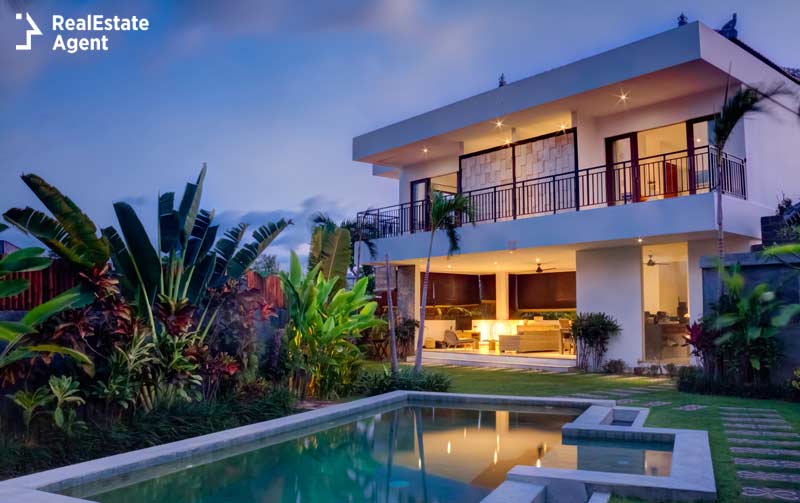 What really increases the price of the house is its location. So, if your house is not on an exotic beach, we will tell you how to bring the sea to your house. Stay with us as we look at the friendly side of the water - the miraculous liquid that makes our planet habitable.
Water is both a friend and an enemy in real estate. Leaking faucets, burst pipes, and floodings are any homeowner's worst nightmares. But what about ponds, pools and indoor water walls? When you don't own a waterfront property, aren't all these great home additions that can improve your home's curb appeal and speed up the sale process?
Americans spent nearly $340 billion in 2018 on home remodeling projects. To refurbish a kitchen, it could cost between $5,000, for smaller ones, and $50,000 for high-end kitchens, according to HomeAdvisor. Bathrooms usually cost less since they are smaller in size, so depending on complexity and quality, a re-bath could cost between $6,000 and $14,000. Switching to solar power is another great home improvement, but the costs could top $20,000. Another way to increase a home's value is to replace the heating, ventilation and air conditioning units (HVAC) for $2,000-5,000. Last but not least, water features don't cost a fortune and can increase the value of the property because most of them become fixtures in the end.
Indoor water fixtures to increase your home's value
According to a Gallup poll, aquaphobia is a huge problem among Americans as 60% are afraid of deep water, and another 45% would be afraid to bath in a pool with water that is above their heads. If you are one of them, this doesn't mean that you can't play with water at all. Don't be afraid to get wet with a DIY indoor water wall or bubble wall! These projects will be a lot of fun for your kids, too!
Indoor water walls, waterfalls and fountains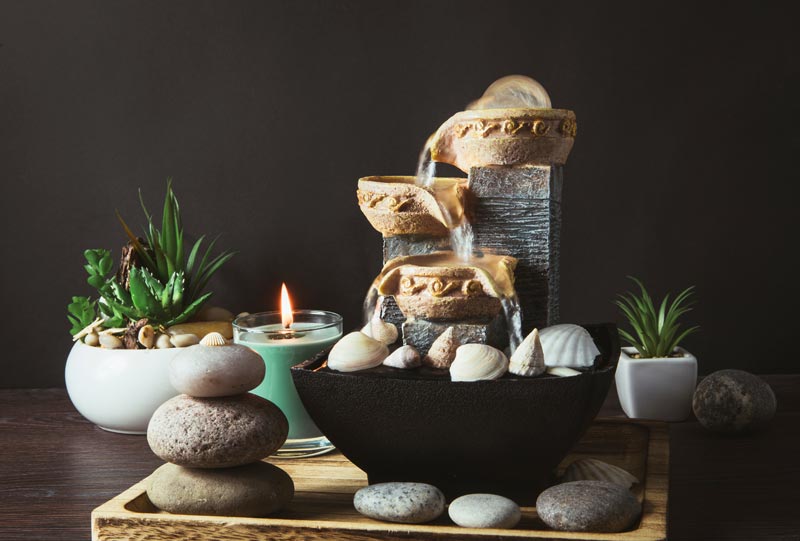 Water has a special place in many cultures, especially in Asia. Feng shui puts a lot of emphasis on water and other natural elements in order to create a balance between the individual and his/her environment (Feng means wind and Shui means water). Water is usually represented by the color blue and black. Subtly, it has more and more influence in the western world too and dictates the way space is laid out and decorated.
Whether you embrace Feng Shui or not, water is soothing anyway, so the best way to bring it inside as your friend is to invest in an indoor water wall or water fountain.
Feng Shui water fountains are small and inexpensive. It doesn't matter what they are made of. In fact, they bring good energy if they go well with the interior design. The sound of the flowing water could be louder or softer depending on the size. However, if you want to feel as if the Niagara Falls is right next to you, install a water wall.
You'll find DIY projects on YouTube, but to make sure it's safe, work with an experienced company and an electrician. As the ultimate water feature, a water wall is stylish and modern - a piece of contemporary art. Use distilled water to prolong the life of the water pump and to avoid mineral accumulations. Depending on the type of material used for the front panel, the water will make different cascading sounds. What will make your indoor water wall really stand out, though, are the lights. Led lights with remote control allow you to change the colors depending on your mood at the press of a button.


Did you know that water walls are a great branding tool? Many companies, including real estate brokers, choose to have an acrylic or glass backdrop with their logo engraved. Huge water walls are amazing features at the entrance of huge apartment buildings, condominiums, office buildings or in shopping malls. Even the biggest shopping mall in the world, the Dubai Mall, features one! Other great places where water walls add drama are hotel lobbies or atriums and showrooms. An architectural wonder worth mentioning here is the Houston Water Wall at the Williams Tower (Gerald D. Hines Waterwall Park). Another famous water installation is the waterfall inside the cloud Dome of Garden by the Bay in Singapore.
Water walls are great for the exterior, too. If you work with a gardener or a landscaper, they will probably recommend that you include a decorative water wall or fountain in your garden, besides the automated irrigation system. Water walls for gardens are a fusion of art and engineering; however, you can install plain glass water walls as well, if that's what you want.
Rain curtains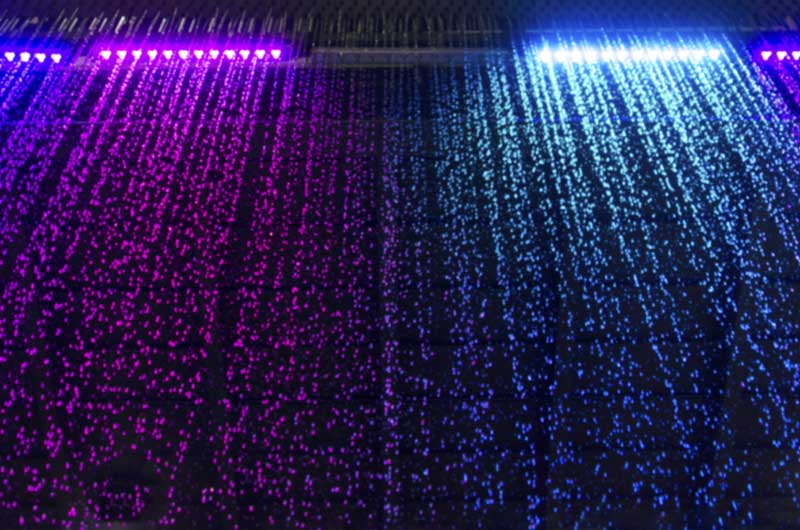 Do you love rain? Then you can enjoy the sound of rain even when the sun is up and shining. Rain curtains are a little bit noisier than water. At first sight, it looks like a shower or pinched pipe - something that any child could do. But it's more than that! Colorful lights enhance this installation and make the water more visible. A water curtain is a closed circuit so the water from the reservoir is pumped up continuously. The floor remains dry.
But rain curtains can get so much more sophisticated! The water flow can be controlled so as to display different patterns, graphics, and text. At the 2016 International Exhibition of Inventions in Geneva, Lumiartecnia, an American-Spanish Engineering and Water Architecture Company received the gold medal for its water mural and was chosen as the best industrial design. This company has also invented the Digital Water Curtain® - a huge water screen on which images and videos can be projected.
Digital water curtains can also be installed temporarily in trade fairs and will be a magnet for visitors, for sure. But the real show stoppers are next.
Aquariums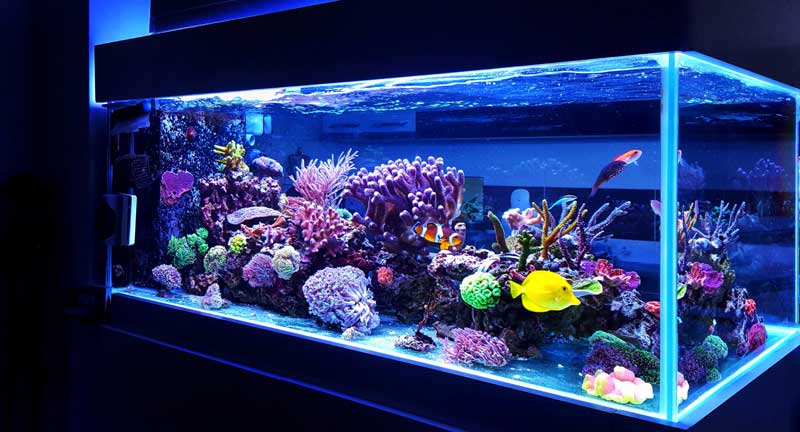 Fish tanks come in all shapes and sizes nowadays: from two goldfish in a fishbowl to large rectangular reefs. Yes, you can use a fish tank to separate two rooms or to replace a painting on the wall. Aquariums are amazing water features but when you decide to install one in your home, think about the maintenance it will require, the weight, and the footprint.
You can choose between freshwater and saltwater aquariums. Freshwater fish may not be as colorful as their saltwater relatives but are stronger and less sensitive. A freshwater fish tank requires less maintenance than a saltwater fish tank. Fortunately, you can hire a company that specializes in large aquariums to handle the installation and maintenance. Larger fish tanks are more chemically stable than the smaller ones, and the water chemistry is vital if you want to breed the fish. Big saltwater fish tanks are energy hungry and might require their own generator.
Indoors, an aquarium with an open top provides humidity, and it is also a source of light. Water plants require at least 10 hours of light daily. Another good point is that the water can be reused for the houseplants.
If you are a Jack of all trades and want to do everything yourself, make sure you don't build an oversized tank that could break any minute. Don't say it can't happen! In 2014, the huge fish tank at Downtown Disney's T-REX Café restaurant in Orlando had ruptured while patrons enjoyed their meals. Any leakage is a liability, so verify that your homeowner's insurance covers it.
However, a good and a bad side of owning an aquarium is that it keeps you tied to the home. In the event of leakage, you can limit the damage, but if you want to go on a holiday with your family, it has to be a city break at most.
Indoor bubble walls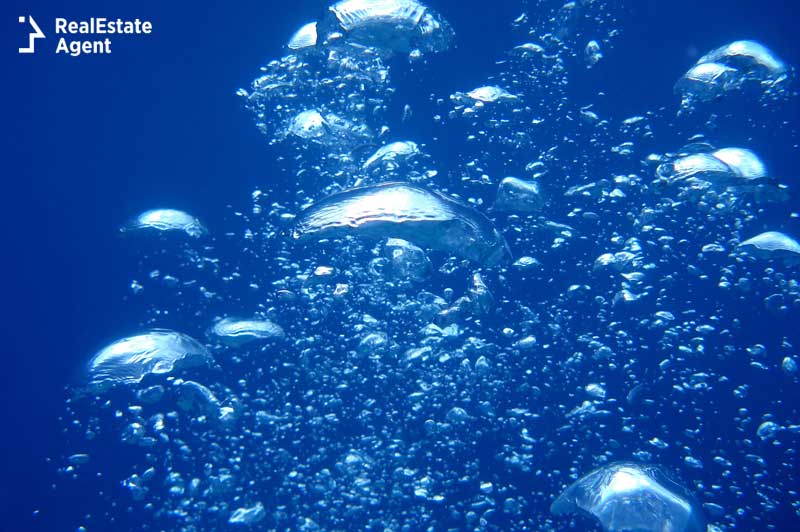 These decorative glass tanks will hypnotize you with their bubbles and lights. Encapsulated water walls use only a water reservoir, an air pump and led lights. These recipients are great replacements for fish tanks and are less expensive than indoor water walls. It's amazing how such a small amount of water and a few air bubbles can generate such a mesmerizing effect! Bubble walls are thin and light, so you avoid the problem of weight. Besides, these decorative walls or moving water paintings require very low maintenance compared to aquariums. Bubble walls are great water features not only for residential spaces but also for commercial real estate.
Printed water indoor decorations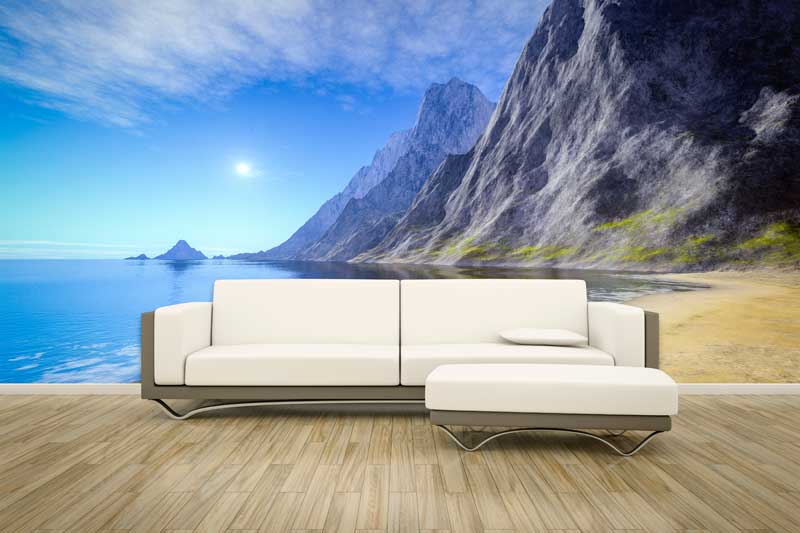 The psychological benefits of water are so great that it's enough to see a picture of the ocean to calm down. And to avoid all the risks that bubble walls and water walls might pose indoors, sticking a breathtaking photo of a beach on a wall is probably the most inexpensive way to bring the ocean in your house. It is well known the fact that being by the sea reduces stress and depression. Check the print quality to make sure the image is not pixelated and choose a view that you would like to see every single morning. Wall murals are easy to apply, and some brands can be removed and reapplied again on another wall.
Another trend is the backlit mural that uses a photo printed on vinyl. The picture costs around $60 and you can easily change it.
To bring the water in your bathroom without turning your house into a sinking ship, shop around for tiles that imitate the water. There are many photo effect tiles for floors and bathroom backsplashes to choose from.
And if you really want to go the extra mile, you can install a huge TV screen and use that as an accent wall when you're not watching it.
Outdoor improvements with natural and artificial water elements
Water features are a great way to make your backyard less boring. Whether you install a water wall or a tiered fountain with an intricate design, choose high-quality materials that will last a long time.
Automatic irrigation system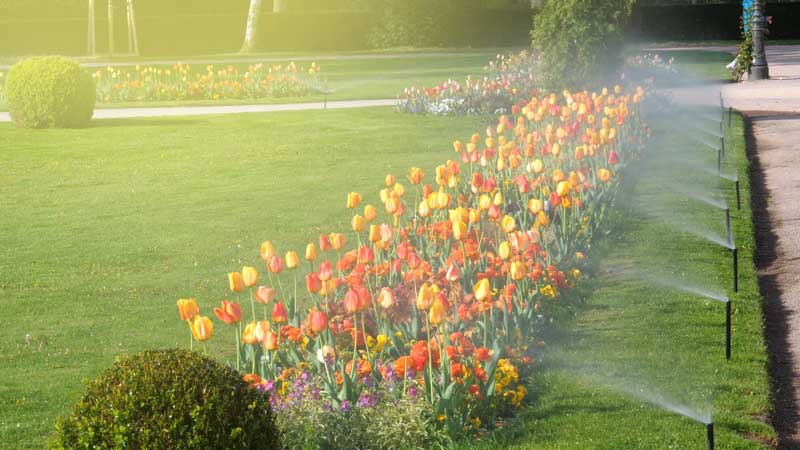 This water feature is a must for homes with a lawn. Regularly sprinkling the lawn will keep it green and shiny all the time. The sprinkler system for a quarter acre will take out of your pocket about $2,500, according to HomeAdvisor, but you could save some money if you did it yourself. The downside of an automated irrigation system is that it will probably run even on rainy days and will sprinkle in vain, against the wind.
When you have the system in place and the new home buyers don't have to dig and ruin the yard to install one, your investment will pay off. Besides, a healthy green lawn increases the curb appeal. So, overall, there are more pros than cons.
And since we've mentioned sprinklers in this section, let's not forget about the indoor sprinklers that should automatically sprinkle water when smoke detectors send the signal. Home buyers will definitely pay more for a house that has smoke detectors and various fire extinguishers and retardants.
Water walls, waterfalls and fountains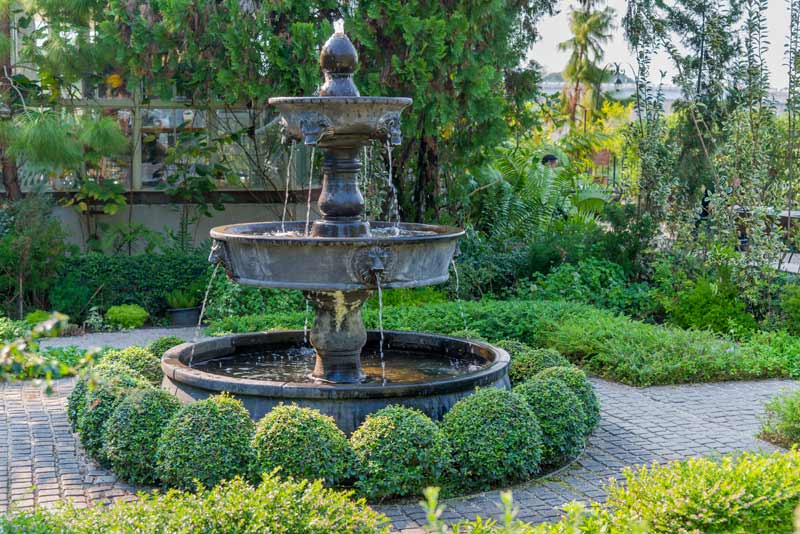 Outdoor water walls are made of various materials such as marble, bricks, bronze, aluminum, and faux stone panels. The concept is similar to the indoor walls.
However, nothing brings the sound of water to life like a waterfall. It can be a simple wall fountain or a DIY Heron's fountain! But did you know that you can integrate a waterfall into a garden pond? Discuss this possibility with your landscaper and find out how to take care of it during the winter.
Garden fountains though are timeless. Would you like a vintage tiered fountain or a smaller replica of the Fountains of Bellagio from Las Vegas? How far you want to go depends only on your budget!
Swimming pools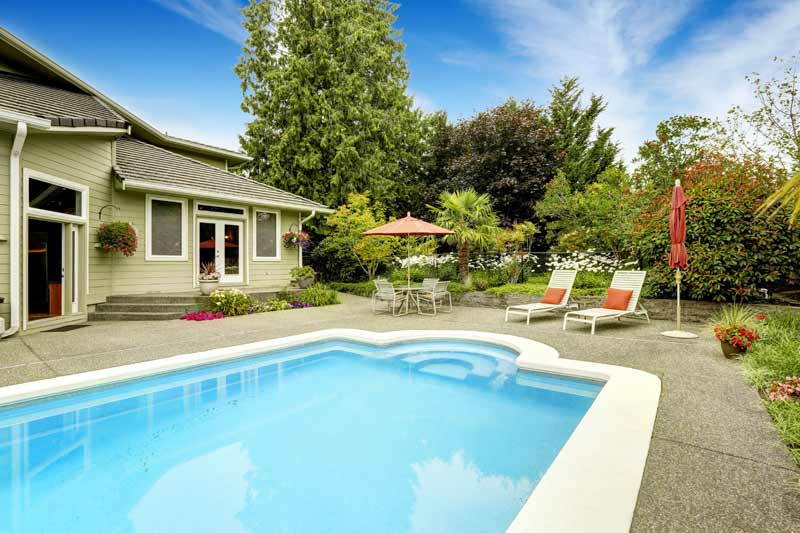 The number of households with a swimming pool has declined significantly since 2009. In the spring of 2017, about 19 million households had a pool, according to Statista. Of course, you can do without it, but a swimming pool is a good investment, especially if you want to cut expensive vacations from your family budget. When you have your own pool you can invite friends and family over for parties, for a barbeque or no reason at all. One thing I know for sure: if your house is on a hill, it would be a pity not to build an infinity pool. Turn yourself into an entertaining host!
Pools benefit everyone but people with disabilities even more because swimming is a physical activity which, practiced regularly, boosts overall health and wellbeing, improves blood circulation, relieves any aches and pains, and strengthens the muscles. Swimming is in the top 5 sports that Americans practice. Owning a pool guarantees privacy and intimacy.
Nevertheless, pools can be dangerous for people who can't swim or for children. Make sure you install appropriate door locks, a fence around the pool and a cover. Do your research first, and learn everything about the water pH, the algae and bacteria that could grow in your swimming pool and could make you or your guests ill. Find out what's included in the maintenance costs.
Not all kinds of pools are fixtures. Talk with your real estate agent about this issue. When you have a pool built in your backyard, do not expect to recover the full price you paid for it. Yes, it will add to your home's value and home buyers will be attracted to it, but you will not get every dollar back. Still, this is a good investment in most states whether you plan to sell your house soon or not. In Colorado, for example, due to the weather, adding a pool to the house might not get you extra dollars. Most people there have sold their homes for more money after filling the pools. If the summer is short, you might want to stick with an inflatable swimming pool.
Artificial fish pond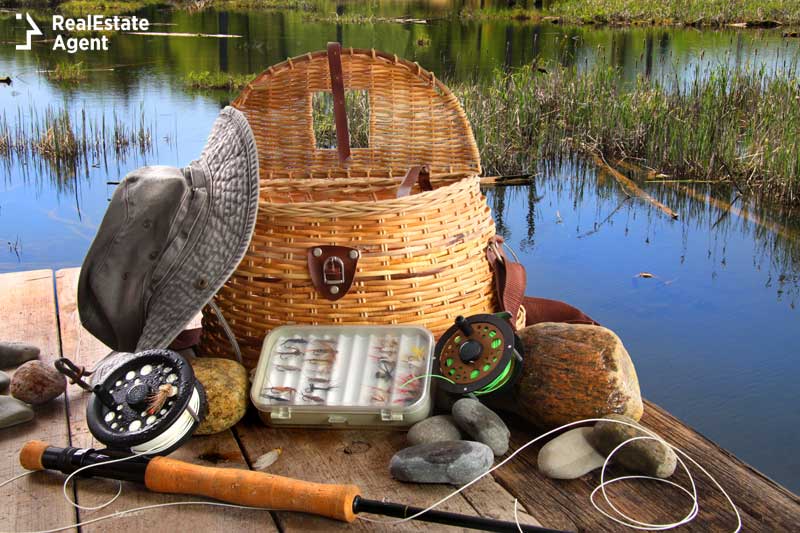 Recreational fishing is the second most practiced activity after running. Among those who have fishing as a hobby, 60% were under 45, according to the numbers released by Statista. However, this recreational activity is more popular among seniors and it goes way beyond building a fishing tank. To look for a boating community where fishing is the main topic is a top priority for those who take fishing really seriously.
But landlords with vacant land should start digging for gold and build an artificial fish pond. The basic requirements are a low land where the water can drain naturally and a stream nearby, to provide water during prolonged periods of drought. Artificial lakes can be filled with trout or coarse fish. To ensure good oxygen levels, the surface should be wide. The good news is that fish can survive over winter even if the water is no more than 7 ft deep.
Recreational fishing is a big business in the US and the Outdoor Industry Association (OIA) stated that the outdoor recreation economy contributes $887 billion to the GDP and employs 7.6 million people. America's anglers spent close to $50 billion and created employment for 800,000 people. With this in mind, starting a recreational business seems profitable in rural areas or even around big cities, providing short escapes for those who need a place to cast their fishing rods and actually catch something.
A fish pond is just a small step in the beautiful world of hospitality. You must love people, though. If you are easy-going and talkative, you'll not run out of business. You should even consider a real estate investment in a second home such as a cabin in the mountains or a house with a waterfront. Just follow your heart!
There is something magical about water. The vastness of oceans and the beauty of waterfalls give us a feeling of awe that leads to greater life satisfaction. Psychological studies have found that listening to the sound of water ensures better sleep. Install an indoor water wall or a bubble wall and you'll instantly feel the difference! We become a better version of ourselves by integrating water into our daily lives. Did you know that Albert Einstein made his great discoveries after spending a lot of time at sea, floating aimlessly? So keep reading the RealEstateAgent.com blogs about what it means to own a beach house or what are the best cities to become a boating family.