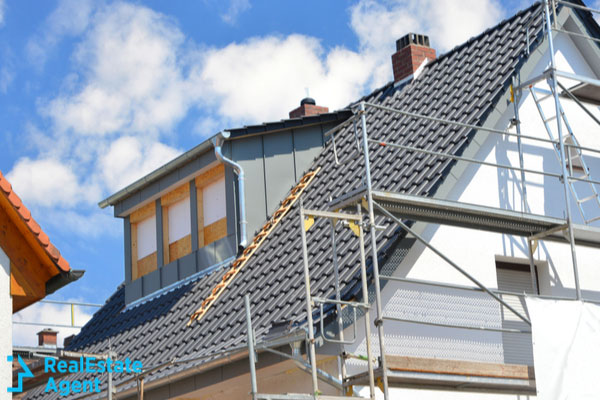 Rehabbing a house for sale purposes is an entirely different ball game than renovating a home for living purposes. Where you might have no problem dropping twenty grand to personalize a home how you like it, a prospective home buyer may have different ideas on where the money should go. In cases like these, fixing up the house for sale so it looks and works in an acceptable manner is key, and making sure you get your money back and/or profit from the sale is the ultimate goal.
Focus on what's important, particularly the bathrooms, kitchen, and exterior of the house. Curb appeal and working appliances are the first places a home buyer will look, so don't spend unnecessary money redecorating bedrooms and garages when the kitchen and bathrooms need work. We suggest looking for small changes that will increase your home value.
Real estate agents can tell you that updating the bathroom and kitchen is always great for maximum return.
6 tips that will go a long way in your for-sale renovations journey:
Look for profit. While this seems obvious, many homeowners will spend money just to scrape by resulting in them barely getting their money back. If there is a chance to make something look good and spend less in the process, take the opportunity and up the resale value while netting yourself more gain.
Paint. Paint is a good way to increase the appearance of a home in a few shades. Slap a new coat over the kitchen, bathroom, and living areas to brighten things and make the home more appealing to potential home buyers. Focus on lighter shades or neutral colors, that will allow potential buyers to imagine their furniture and decorations in each room; this builds stronger emotion for the home buying process.. Lighter colors are also known to make the room look larger.
Appearance over function. A sad statement, but a home buyer is more likely to cringe at ugly flooring and walls over the old water heater. Where a water heater can be replaced without disrupting an entire family unit, floors and walls are more of a hassle that a buyer is less willing to replace themselves.
Don't spend time and money to hand over custom work. In other words, cherry hardwood looks wonderful, but it's an expensive risk. The home buyer may not like it, and you may have just forked over quite an investment when you could have just gone with regular tile or wood flooring. Keep it clean and simple with a pattern that will match almost any style of decor. Standing out or being unique is not the best choice in this case.
Refurbish. Why replace the entire kitchen cabinets when you can refurbish them? If the base is good, just repaint, restain, or replace the countertops with a soft, sturdy option. Don't spend money where you don't have to. Everyone has their own style and if they truly want marble instead of granite, chances are they will replace it themselves in order to be able to pick the material and patterns they like the best.
Avoid replacing unnoticeable things. Replacing windows, lighting, and converting that garage into a media room is unnecessary and expensive. If it works, don't mess with it. Simply use your funds to draw attention to the nice things in the house, and increase the appeal of the areas they will use most. Most people tend to want to add their own flair to the house after the purchase to make it feel more like "home."

While making sure the electric, plumbing, and appliances is necessary, going the extra mile on things that the home buyer won't notice is pointless. Focusing your energies on do-able renovations like a kitchen makeover, bathroom upgrades, and flooring decisions is a better way to get your money back when rehabbing a flip house. Avoid the headache and make changes where the home buyer is most likely to appreciate them. Turn a profit where you can, save on the fancy materials and choose economical, clean & simple designs!
Follow The OFFICIAL Real Estate Agent Directory® for more healthy home living and real estate tips.