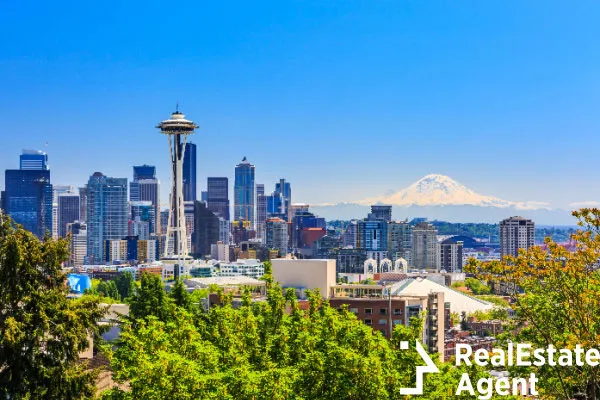 Washington boasts a diverse landscape, captivating residents and visitors alike. The state is known for its stunning natural beauty, vibrant urban centers, and many outdoor recreational opportunities. No wonder the best places to live in Washington are highly sought after.
From the majestic Cascade Mountains to the pristine shores of the Pacific Ocean, Washington offers an array of breathtaking scenery that will leave you in awe. Are you an avid hiker? A nature enthusiast? Or a fan of water sports? There's no shortage of activities to keep you engaged throughout the year.
Beyond the natural beauty of Washington, its cities provide an eclectic mix of cultural experiences. Seattle, the Emerald City, is a hub for innovation and technology. Tacoma boasts a rich history and a revitalized waterfront. They make it a haven for art and history lovers. Furthermore, Spokane's friendly community appeals to those seeking a more laid-back lifestyle.
Additionally, Washington commits to education, healthcare, and environmental sustainability. They make it an attractive destination for families and individuals, particularly those looking to thrive in a progressive and forward-thinking environment.
In this captivating corner of the United States, the best places to live in Washington offer an unparalleled quality of life. They blend natural wonders with modern amenities for a truly exceptional experience.
Best cities to live in Washington
For those seeking an outstanding quality of life, this state offers an array of cities that stand out as the best places to live in Washington. Let's explore top towns epitomizing Washington's best, from vibrant urban hubs to charming communities.
1. Seattle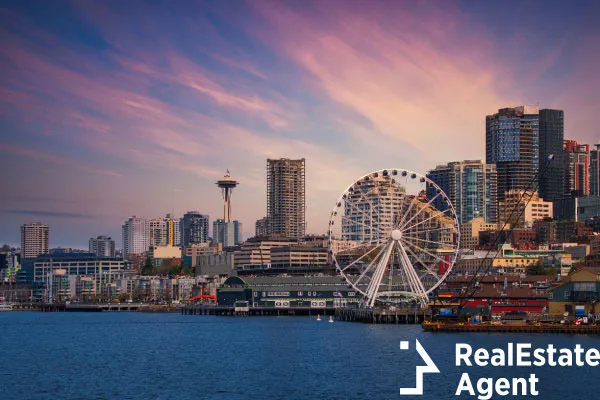 Located in the heart of the Pacific Northwest, Seattle, Washington, stands tall as a beacon of cultural diversity. The city is renowned for its progressive mindset. Also, for its innovative technology scene and unparalleled access to outdoor adventures. Unsurprisingly, Seattle consistently ranks among the best places to live in Washington.
Real estate agents in Seattle WA inform us that the city is a dynamic economic hub. It draws people from various backgrounds seeking professional growth and development. Seattle has many global companies like Amazon and Starbucks headquartered within its limits. Thus, the city offers many job opportunities across diverse industries. The robust job market and competitive wages are attractive features that entice many to call Seattle home.
As one of the best cities to live in Washington, Seattle pride itself on its rich cultural diversity. The city embraces a welcoming atmosphere. Here, people from different ethnicities, religions, and backgrounds coexist harmoniously.
Seattle is a paradise for outdoor enthusiasts. Residents enjoy access to hiking trails, skiing resorts, picturesque parks, and stunning waterfronts. Whether it's a weekend trek in Mount Rainier National Park or a stroll along Alki Beach, Seattle offers endless opportunities for outdoor adventures and nature retreats.
Seattle boasts an exceptional education system. It has top-notch universities, including the University of Washington. Additionally, the city offers state-of-the-art healthcare facilities. They ensure residents have access to high-quality medical services and cutting-edge treatments.
Seattle is undeniably one of the best places to live in Washington. It is a dream destination for those seeking a vibrant urban lifestyle with unparalleled access to nature's wonders.
2. Tacoma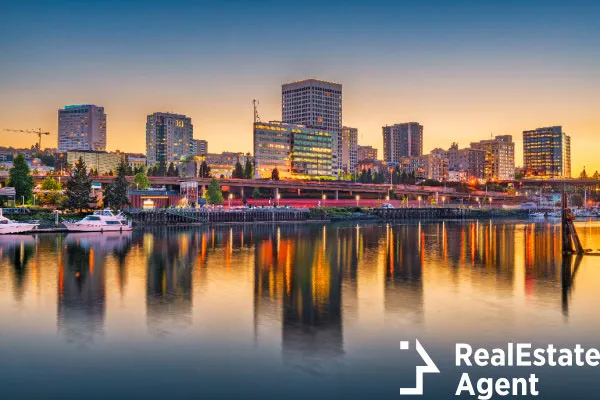 One of the primary reasons Tacoma is celebrated as one of the best places to live in Washington is its affordability compared to neighboring cities like Seattle. As the cost of living continues to rise across the Pacific Northwest, Tacoma offers a more reasonable option. With a diverse range of housing options, Tacoma caters to various lifestyles and budgets.
Another standout feature that sets Tacoma apart is its thriving arts and culture scene. The city boasts many museums, galleries, and theaters. They host an array of events, exhibitions, and performances year-round. The iconic Museum of Glass is a testament to Tacoma's commitment to artistic expression and innovation.
Additionally, Tacoma has a strong sense of community and commitment to sustainability. They make it an attractive choice for families and individuals. Residents actively participate in local initiatives and community events. They create a welcoming and inclusive environment that fosters lasting connections. The city's efforts toward sustainable urban development reflect a forward-thinking approach.
The culinary scene in Tacoma is another highlight that adds to its allure. Food enthusiasts can delight in various restaurants, cafes, and food trucks. They offer diverse cuisines, from local Pacific Northwest delights to global flavors. You can find some of the best American foods here. The vibrant nightlife and entertainment options further enhance the city's appeal.
Whether you seek a bustling urban experience, a tranquil natural setting, or a harmonious blend of both, Tacoma delivers on all fronts. It makes it an outstanding choice for those looking for the best cities to live in Washington.
3. Bellevue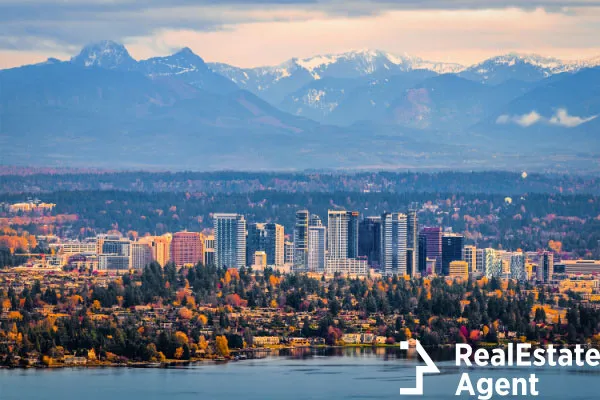 Bellevue, Washington, is a vibrant city offering a unique blend of urban amenities and natural beauty. Bellevue is one of the best places to live in Washington and the United States. In 2014, Bellevue was named the second-best place to live by USA Today. Its thriving economy, excellent schools, picturesque landscapes, and recreational opportunities captivate residents and visitors.
One key factor that makes Bellevue a top choice for residents is its robust economy. The city is a central hub for technology companies. Industry giants like Microsoft and Amazon have established their presence here. They foster a competitive job market and draw professionals from various fields. The strong economy has contributed to the city's excellent infrastructure and services. It makes it a desirable option for those seeking career growth and stability.
Bellevue's dedication to education is another hallmark that sets it apart as one of the best cities to live in Washington. The city boasts a well-regarded public school system. Additionally, Bellevue is home to prestigious private schools and higher education institutions. They ensure families have access to quality educational opportunities for their children.
Beyond its economic and educational prowess, Bellevue offers many recreational activities. The city's proximity to Lake Washington allows residents to enjoy water-based activities. Moreover, many parks and green spaces dot the city. They provide residents ample opportunities to indulge in outdoor activities.
Bellevue's commitment to urban planning is evident in its well-designed neighborhoods. The city maintains a delicate balance between modernity and natural preservation. It ensures that green spaces and community parks are integrated seamlessly within its urban fabric. This thoughtful approach enhances its residents' overall quality of life. It makes it a preferred choice for those seeking an excellent work-life balance. Real estate agents in Bellevue WA can provide valuable tips on the real estate market in the area.

Moreover, Bellevue's vibrant cultural scene adds to its allure as one of the best places to live in Washington. The city hosts numerous festivals, concerts, and art events yearly. They provide ample opportunities for residents to engage with diverse cultural experiences.
Transportation within and around Bellevue is convenient. There is an efficient public transit system and well-maintained roads. Commuting to neighboring cities or exploring the picturesque landscapes of the Pacific Northwest is a breeze. It further enhances the appeal of Bellevue as an ideal place to call home.
4. Spokane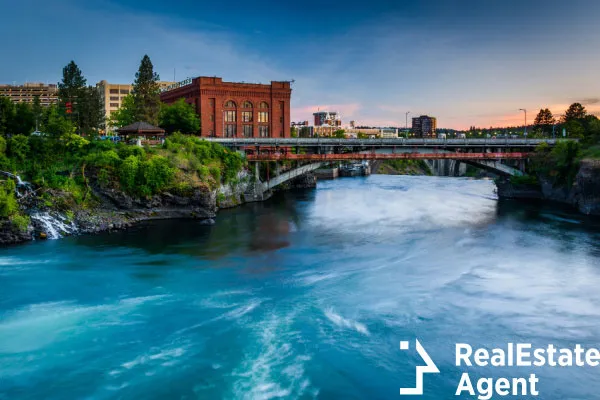 When it comes to the best places to live in Washington, Spokane often flies under the radar. However, for those seeking a well-balanced lifestyle, a thriving community, and abundant recreational opportunities, Spokane is an undeniable contender among the best cities to live in Washington.
Spokane's unique blend of urban amenities and natural beauty makes it ideal for city dwellers and nature enthusiasts. The city has various dining, shopping, and entertainment options. It has a vibrant downtown area hosting many cultural events and festivals year-round. At the same time, the surrounding landscape offers a wealth of outdoor activities. You can hike and bike in the nearby mountains or explore the picturesque Spokane River.
One of the standout features of Spokane that sets it apart from other major cities in Washington is its affordable housing market. Living costs continue to soar in many metropolitan areas. Still, Spokane remains attractive for those looking to settle without breaking the bank. Spokane's diverse housing options cater to various preferences and budgets. The local realtors in Spokane WA can help you through the extensive home-buying process. They can also provide you with valuable insights into the market.
Various industries anchor Spokane's economy, including healthcare, education, manufacturing, and technology. The city is home to several major medical facilities and universities. They provide ample employment opportunities for professionals in these fields. Additionally, Spokane's strategic location near the border with Idaho fosters economic growth and trade. It makes it a region with promising job prospects.
5. Everett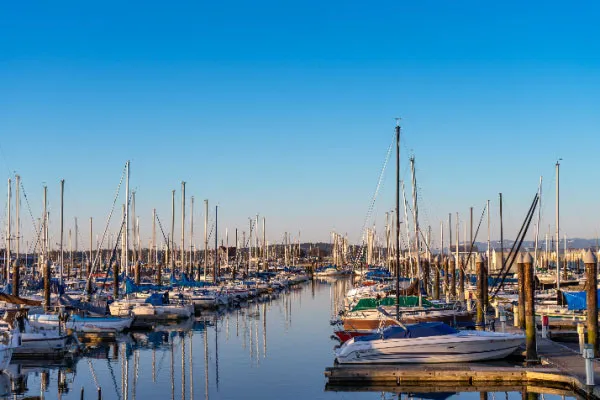 Everett is home to over 110,000 residents and has consistently earned its reputation as one of the best cities to live in Washington. The city boasts a solid job market and a thriving economy. It attracts professionals seeking opportunities for growth and development. Major industries like aerospace and technology contribute to the city's economic stability. They attract skilled individuals nationwide.
For outdoor enthusiasts, Everett is a dream come true. Surrounded by breathtaking landscapes, the city offers various recreational activities. Imagine waking up to stunning mountain vistas. Or ending the day watching the sun dip below the horizon over the tranquil waters of Puget Sound. It's all possible in Everett.
Moreover, Everett boasts an extensive network of parks, green spaces, and community centers. They ensure residents have ample opportunities to engage in various activities. The city's commitment to fostering a sense of community spirit is evident in its well-maintained parks. Here, families can gather for picnics. Sports enthusiasts can join leagues, and children can enjoy playgrounds.
The education system in Everett is highly regarded. It has numerous well-performing schools and excellent higher education institutions. Families with children can take comfort in having access to quality education. They can nurture their intellectual growth and prepare them for a successful future.
Cultural enthusiasts will be captivated by Everett's rich artistic and entertainment scene. The Historic Everett Theatre, a local landmark, hosts a variety of performances. The Schack Art Center showcases the works of talented local artists. The city's vibrant downtown area has charming shops, cafes, and restaurants. They add to its allure as an exciting destination.
The local real estate agents in Everett WA inform us that the city caters to diverse preferences regarding housing options. From historic homes in tree-lined neighborhoods to modern condominiums with water views, residents have many choices that suit their lifestyles and budgets.
6. Bellingham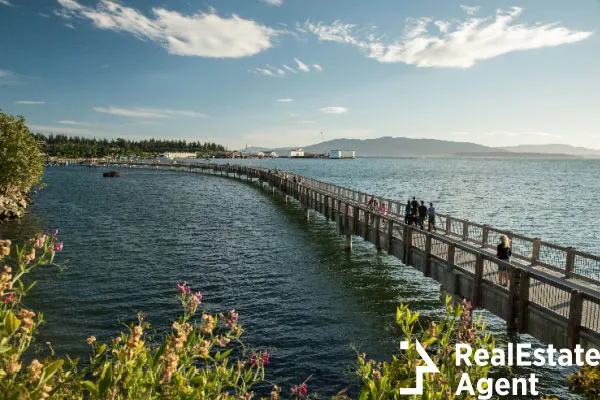 Bellingham is located between the majestic Cascade Mountains and the stunning Salish Sea. It is a captivating city titled one of the best places to live in Washington. With its natural beauty, vibrant community, and thriving economy, Bellingham stands out as a hidden gem among the best cities to live in Washington.
The allure of Bellingham lies in its breathtaking surroundings. Residents and visitors alike are captivated by the picturesque landscapes. From the snow-capped peaks of Mount Baker to the idyllic waters of Bellingham Bay, the region offers many outdoor recreational opportunities. Whether hiking, biking, kayaking, or skiing, Bellingham has everything. It makes it a haven for nature enthusiasts and adventure seekers.
Beyond its natural splendor, Bellingham boasts a diverse and welcoming community. The city is home to Western Washington University and exudes a youthful and progressive atmosphere. The local arts scene thrives with galleries, theaters, and music venues. They offer a rich cultural experience for all residents. The downtown core is a charming mix of boutique shops, farm-to-table restaurants, and lively bars. They create a vibrant social hub that fosters a sense of belonging for everyone.
Moreover, Bellingham's strong economy further solidifies its status among the best places to live in Washington. The city's strategic location between Seattle and Vancouver opens doors to various job opportunities, particularly in the tech, education, and healthcare sectors. The presence of a robust local business community has led to a thriving entrepreneurial spirit. They drive innovation and growth throughout the region.
For those seeking a high quality of life, Bellingham delivers on multiple fronts. The city's education system is top-notch, ensuring a bright future for its residents. Access to quality healthcare facilities, plenty of outdoor recreational spaces, and a low crime rate contribute to its inhabitants' sense of security and well-being.
Bellingham quietly stands out as one of the best cities to live in Washington. The unique blend of natural beauty, vibrant culture, and economic opportunities sets it apart. They make it a prime destination for families, young professionals, and retirees. If you're looking to relocate to this beautiful city, don't hesitate to contact one of the top-ranked real estate agents in Bellingham WA. They will be happy to assist you.
7. Bainbridge Island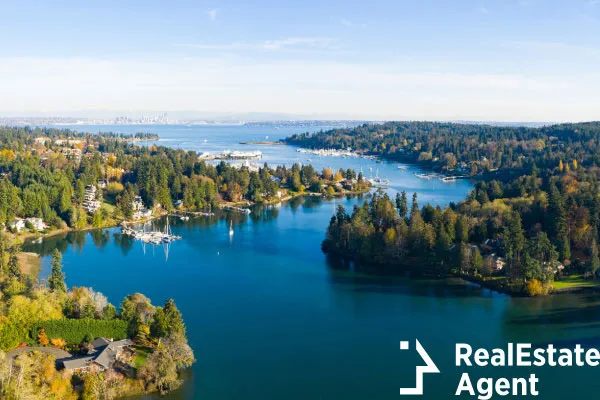 Home to approximately 26,000 residents, Bainbridge Island offers an unparalleled quality of life. It blends small-town charm with convenient access to metropolitan areas. The island is close to Seattle, with frequent ferry services. It is an ideal destination for commuters seeking a serene retreat from bustling city life.
The island's picturesque views of the Cascade and Olympic mountain ranges make it a haven for nature enthusiasts. Kayaking along the crystal-clear waters, hiking through the forested trails, or biking around the island are just a few ways to immerse oneself in the island's natural wonders.
Bainbridge Island boasts a thriving arts and culture scene. It has many galleries, theaters, and music venues hosting captivating performances. The iconic Bainbridge Island Museum of Art showcases a diverse collection of contemporary regional artwork. They add to the island's creative spirit.
Education and family-friendly amenities are equally abundant on Bainbridge Island. The island boasts top-notch schools. They provide an excellent learning environment for students of all ages. Its safe neighborhoods and close-knit community foster families' sense of security and belonging. It makes it one of Washington's best places to raise children.
Food enthusiasts will find themselves in a culinary paradise on Bainbridge Island. Here, farm-to-table dining experiences and local produce markets offer tempting flavors. The island's commitment to sustainability and community-driven initiatives is evident in the popularity of farmers' markets and artisanal food festivals.
The Bainbridge Island community actively embraces various recreational activities and community events. From summer concerts in the park to lively art walks, residents can always find something exciting to engage in. They foster a solid unity among its diverse population.
As one of the best cities to live in Washington, Bainbridge Island's vibrant economy offers various job opportunities. The island's commitment to environmental initiatives has also spurred growth in green industries. It attracts professionals seeking meaningful work-life balance. Realtors in Bainbridge Island can provide more insights into the best places to live here.
8. Richland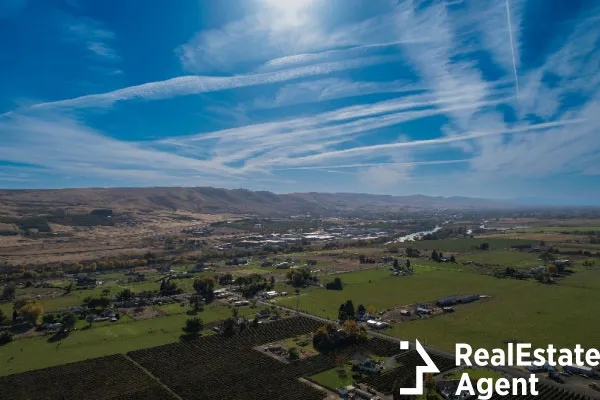 Richland is nestled along the serene banks of the Columbia River. The city is a shining gem in the state's crown of best places to live. This picturesque city has rightfully earned its spot among the best cities to live in Washington. It boasts a delightful combination of stunning landscapes, a thriving community, and plenty of recreational opportunities.
One of the most alluring aspects of Richland is its breathtaking natural beauty. With its temperate climate, residents can enjoy all four seasons in perfect harmony. The panoramic views of the Columbia River and nearby mountain ranges create an idyllic setting. It makes it a dream come true for nature enthusiasts seeking tranquility and adventure.
The community in Richland is second to none. It has a friendly and welcoming atmosphere that fosters strong bonds among neighbors. The city hosts many cultural events, festivals, and outdoor activities. They encourage residents to unite and celebrate life. The many recreational facilities ensure residents can lead an active and healthy lifestyle. It further enhances the appeal of Richland as one of the best places to live in Washington.
For those seeking a mix of urban amenities and a laid-back lifestyle, Richland delivers. The city's downtown area has charming shops, restaurants, and cafes. They create a vibrant atmosphere that caters to all tastes. From boutique shopping to fine dining experiences, residents and visitors alike can indulge in diverse activities without sacrificing the small-town charm that Richland exudes.
Realtors in Richland WA inform us the housing market in the city is diverse. It accommodates a wide range of budgets and preferences. Are you seeking a cozy single-family home in a quiet neighborhood? Or a modern apartment with a view? There is a perfect place for everyone in this charming city.
As one of the best cities to live in Washington, Richland has become a magnet for those looking to embrace an exceptional quality of life. The city's commitment to sustainability and a strong emphasis on community engagement has earned it a reputation as a model city.
Final thoughts
Washington offers fantastic options for those seeking the best places to live. From vibrant urban centers like Seattle and Bellevue to charming communities like Spokane and Bellingham, there are numerous best cities to live in Washington. These cities boast stunning natural landscapes, thriving job markets, excellent educational opportunities, and a rich cultural scene. They make them some of the best places to live in Washington for individuals and families alike. Whether you prefer bustling city life or the tranquility of a smaller town, realtors in Washington has something to offer everyone. It is a top destination for those searching for the best places to call home.