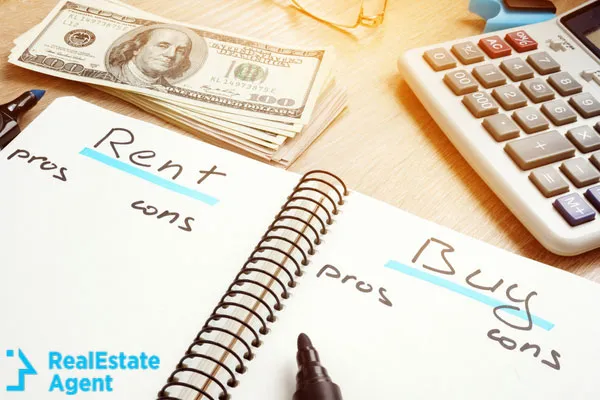 There are times when it is advantageous to rent a house instead of making a purchase. The reasons vary based on several factors. In contrast, certain conditions point to best time to buy a home. It is crucial to understand the pros and cons of each scenario. Here is a brief, yet detailed review for consideration.
Rent a house
The top reasons people rent a house are financial, job relocation, needing space for a growing family, not ready to make the commitment of buying a home. There are a lot of pros for this decision to rent a home as well as undesired cons.
Pros of renting
Individuals relocated by employers will find this is an excellent short-term option. It has benefits of the company covering some if not all, of the expenses. Often employers will help their employees find a real estate agent that can assist them when the time is right to buy a home.
Renters with growing families often make this decision out of necessity. However, renting a home gives them an opportunity to experience the responsibilities that come with homeownership without making the financial commitment.
Cons of renting
Home rentals require additional responsibilities that apartments do not. For example, lawn maintenance may be required. This will include having to purchase equipment such as a lawnmower or contracting with a lawn service. Renters will also be responsible for all utilities including gas, water, and garbage removal. Also, does the real estate property have a pool? If so, that expense may be on you! Check the rental agreement carefully.
Buy a home
While the status of the housing market plays a paramount role in the decision to buy a home, first time home buyers, retirees, and rental property investors are the driving catalysts.
Pros of Buying a home
The obvious benefits of homeownership remain with equity and achieving the America dream. Equity can be used during emergencies at reduced interest rates or reverse mortgages for retirement. Real estate professionals can assist with guidance and insight for making the best decision regardless of the scenario and timing.
If timing is not a factor, then researching to find properties for sale in a down market will yield the best ROI. Homes for sale during this time are well below the highs during upturns. In addition, certain states known for retirement or tourists such as Florida, Arizona, and California will have better pricing. Lenders and home sellers will be eager to move properties that may be vacant.
Cons of Buying a home
Timing is the biggest disadvantage in purchasing real estate as it can affect pricing and interest rates. Licensed real estate agents and brokers will be the best ally in finding MLS listings such as short sales to alleviate this issue.
When the time comes, homes for sale and their pricing are the biggest variables that dictate the option to meet individual needs. A caveat to either scenario is a lease-purchase. Renters enter into a time sensitive contract with the owner for a specific amount of rent to be applied towards an agreed upon sales price. In the end, renters are responsible for securing a loan or they may lose their money.