When buying or selling a home, finding a real estate agent is a good way to get the job done quickly, efficiently, and responsibly. Real estate agents are trained to market, sell, and close deals and they may have more luck selling your home than you would be selling on your own.
Whether you're a first-time seller or you're just tired of leaping through the numerous hoops 'For Sale By Owner' entails, you may be debating where to find a real estate professional for help.
The choice then lies between choosing to work with a big real estate company or a smaller company/individual agents. Maybe you are still wondering, why use a realtor in 2020? While both have their benefits, the choice depends on what you personally value in a real estate agent.
What is a real estate firm?
Before we get into the advantages of hirigng a real estate agent from small or large real estate firms, let's find out first what a real estate firm really is. To put it simply, a real estate firm is a business that engages in any kind of real estate related aspects. Most commonly a real estate firm will be encountered as a real estate brokerage.
A real estate brokerage conducts transactions on behalf of both buyers and sellers. The real estate firm is run by a licensed broker and licensed real estate agents to work for the broker. In terms of licensing requirements necessary to open a real estate brokerage, they might vary from one state to another.
Brokers, as well as agents within a real estate firm, have the responsibility to list properties for home sellers. They also provide marketing and advertising services in order to support the listing activity. Brokers and agents show properties to home buyers and they guide them through the purchase, with paperwork, contracts, home inspections as well as negotiating on their behalf.
Also, it is important to know that brokers can work independently but agents can only represent clients if they are under a licensed broker.
Is it better to go with a big realtor or small?
Now that you know what a real estate firm is you are probably wondering if bigger is better, or maybe you should stick with a small real estate firm? After all, is it better to go with a big realtor or small?
If we would have to give you a quick and simple answer, then we would say that size doesn't matter. After all, would you pick quantity over quality? Here is where you can go more in-depth and you can probably argue that there are more real estate agents to choose from when it comes to big real estate companies vs small ones. On the flip side, you have small real estate companies that can't afford to have "any" agent occupying one of the office areas, so you might have fewer agents, but better overall.
In any case, the most important thing is the quality of the agent that you hire rather than the size of the real estate company. Therefore, how to choose a realtor might be a better way to go about it. In the end, is a big realtor just an agent part of a big company or is a big realtor a qualified person that is able to provide the uttermost professional services as far as real estate transactions go.

We like to think that the second one is true in all scenarios no matter if it is a big or a small real estate company. However, what is the difference between big real estate companies and small ones aside from their size? We decided to compile a list of benefits for both small and large real estate companies in order to highlight some of the differences.
Pros of working with large real estate agencies:
A higher level of trust. For many home buyers and sellers, a familiar "big brand" national name or large local real estate company can reduce skepticism over potential results, and build a strong relationship based on trust.
Expanded reach. This can be vital for homeowners trying to sell a home. With the proper reach (number of people exposed to the listing), you can get the word out about your home and rake in more potential buyers in less time. Large real estate companies have the budget to heavily promote homes for sale, pointing potential buyers to listings they might have missed on their own.
Better name recognition. A bigger name doesn't always mean top real estate agents with more skill and experience, but this can be a factor. Big firms also may provide extras, such as standard safety policies to keep agents and homeowners safe.
Pros of working with small companies or individual agents:
Personal, individualized service. If you've worked with big businesses before, you know that they don't always have time to spare. A solo real estate agent may be able to offer you more individualized attention and time.
Fewer fees to pass on. Big names may charge more for their services, and they may come with additional fees. A small real estate company or solo agent may have more competitive prices, even if their service doesn't come with all the bells and whistles of a polished company. Everyone has access to MLS listings, even the smallest agent or firm!
Excellent for niche real estate. Trying to sell a fixer-upper or other niche home? There could be a real estate agent trained in that field, and you're more likely to find them if you search outside of the larger companies.
Not feeling of commercialized. Some sellers may just want a quiet, hassle-free deal. Finding a small company or solo agent to handle your affairs can be a wise decision, and help you sell your home fast.
What is a boutique real estate firm?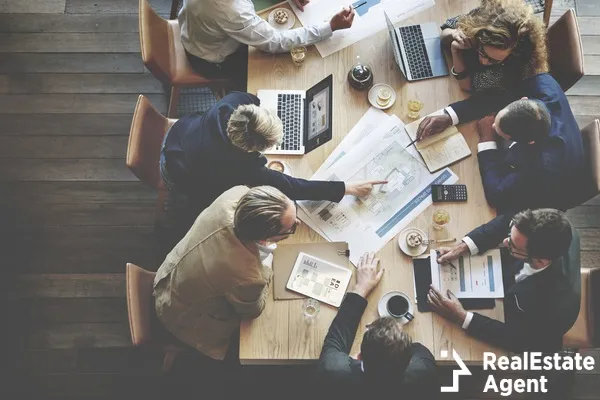 Now that we have mentioned some of the differences between small and large real estate companies, you might encounter some other real estate businesses that offer the same services but have a different approach.

These real estate firms often go by the name of boutique real estate firms. But you might wonder, what is a boutique real estate firm? A boutique real estate firm is probably not as big as some of the large real estate companies, but it certainly is able to provide the same high-quality services. Can a boutique firm be classified as a large or small real estate company then? Not really! That's why we have a section that talks about this type of firm separately.
Many would categorize a boutique real estate company as a business that caters to high end only or even consider it too insignificant to make it far in the competitive market. However, the reality is that these firms are an extremely specialized business that puts a lot of emphasis on customer service and professionalism.
Boutique firms really focus on Customer Service, rather than focusing all their efforts on numbers. That way you will have an overall better experience as a customer because the business understands that every client has different needs. Boutique firms offer the same MLS as the big companies and they all have access to the same properties.
Boutique real estate firms also offer the same online marketing as large firms. Your properties will be listed on the major listing sites such as Zillow, Realtor, and many others. The high-quality marketing products are present in boutique real estate firms as they are for large real estate companies. These are just some of the things that really set apart the boutique real estate firms from others.
Are you trying to stand out above the crowd as a real estate agent? Here are 3 real estate agent marketing tips to excel above the rest.
Build a website. With a proper landing page and website layout, you can market yourself as a professional, experienced real estate agent and draw in potential clientele.
Use social media wisely. Facebook is a good place to start, and there are a number of websites designed for real estate agents. Take advantage of them, and keep up with your growing profile. Read more tips on finding Best Social Media Tools for Real Estate Agents, or read our article on Real Estate Agent Guide To Use Social Media.
Use the REA Directory. Directories are the best way to get listed and build a name for yourself. With RealEstateAgent.com, you receive a customizable page and listings in the cities you're focused on - as well as tools and tips on how to grow your business and close sales. Once you have your real estate agent listings in the directory, people are more likely to find you and use your services.
Follow The OFFICIAL Real Estate Agent Directory® for more home living, real estate, home decor, and lifestyle tips.