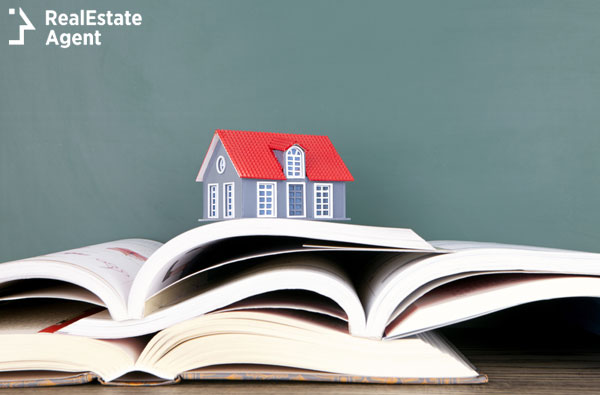 One question we always get from our readers that are starting to dabble with real estate is "Which are the best real estate books for agents?".

With that in mind, we decided to make a comprehensive list of books for real estate agents that are not to be missed in 2021. Not only by people that are just now joining the real estate industry, but also seasoned veterans and even curious people. Those books are culturally relevant for anyone interested in real estate but also a good read. And, in the end, that's what books are all about. If they are a boring read, they might even have important content in it but it will be fundamentally a bad book. And these are the best real estate books, so no no: good reads only.


The Millionaire Real Estate Agent


Written by Gary Keller, The Millionaire Real Estate Agent is the closest to the real estate agent bible. Does Keller Williams Realty International ring any bells to you? If you have ever seen a real estate listing or a for sale sign on a lawn, chances are it had the Keller Williams Realty International logo or name on it, as it's the largest privately held real estate agency in the United States. A bunch of them are registered right here at The OFFICIAL Real Estate Agent Directory® even! Well, Gary Keller is the "Keller" of it.

Those credentials alone would make the book worthwhile, don't you think? But The Millionaire Real Estate Agent is much more than just a book written by a very successful real estate agent company owner. The book provides not only an in-depth view of the life of a real estate agent seeking to rise to another level but also provides models so you can adapt to your own plans of long-term progress and profitability if you want to stay as just a regular agent going about your sales and ensuring a nice comfortable life. While it is targeted to real estate agents – the name is The Millionaire Real Estate Agent, after all – the book can be of great service to any entrepreneur of any business.

The Millionaire Real Estate Agent is a must and you should cop it as soon as you can!



Building Wealth One House at a time


If you want to get to the basics before you turn yourself into the Millionaire Real Estate Agent, John Schaub's Building wealth one house at a time might be the perfect book for you. This book is all about the fundamentals, about – like the title says – building your fortune one house (or client) at a time. Schaub discusses into length about finding the best properties that will turn a profit, how to finance it, negotiate deals, the basics of property management and even legal contracts for leases and rent to own properties.



The Art of the Deal


Independently of who you are and what you feel about Donald Trump, there are nothing but reasons to read this book. Written in 1987, the myth of Donald Trump was pretty much built via this book. One could say it was through "The art of the deal" that Trump rose to a national level as a "real estate mogul from New York".

For people interested in real estate, the book captures the reader with its tales of crazy negotiations, behind the scenes stories and a lot of thoughts of how to go about real estate deals minutiae. And for people that want to go back and put things in perspective trying to fill in the blanks and getting to know more about Donald Trump, like most things Trump, the book is very entertaining and written in a simple language that everyone can understand.


The book on investing in Real estate with no (and low) money down


This book, written by Brandon Turner, covers one topic that every home buyer – and real estate agents wanting to cater to them – wants to figure out the answer. And that's what makes it one of the best real estate books for agents in 2021.

Turner makes a comprehensive guide of non-traditional tools, shortcuts and loopholes that the home buyer should be aware of so he can take advantage of it or so he doesn't get caught by, when dodging a down payment. The concept of making money without "traditional money" – mortgage etc – is one that can be carried to other industries as well – in fact, while the book uses the real estate industry as its base, because that's where Turner is from, it's a fair point to say this book is about financing techniques as a whole.

One thing real estate agents will appreciate about this book is that Turner does not write it in a gimmicky, dishonest, self-help way so common to this type of literature. He simply shows a toolbox of creative ways to go about real estate investing with examples he himself has partaken in the past to create his successful real estate portfolio.


The book on Flipping Houses


Written by J Scott, The Book on Flipping Houses covers one subject that we also get a lot of queries about because it's one area that real estate newbie usually gets attracted to thanks to all the TV shows about it.

Most of these books are written by a hired writer, who interviews the real estate celebrity in question, capture its ideas and writes it in a way that it is intelligible and entertaining. Sometimes they are mentioned as co-authors, sometimes they act as "Ghost-writers" – writers for hire that write the whole thing and the celebrity pretends to have written with no help. But J Scott had been writing in his blog about flipping houses for a long time before writing this book and you can see how that makes a difference and there's minimum "noise" lost in translation. J Scott takes you for a ride here with a real "high-low" literature. Because the actual writer is the actual "thinker", he is able to paint a vivid big picture while also bringing a detailed look at the specifics.

We cannot recommend this book enough for house flippers. And, while we are here, we can't say J Scott's follow-up book "The Book on Estimating Rehab Costs" is one of the best real estate books for agents in 2021 but we can definitely recommend as a companion book to you, if you read the book on flipping homes and loved it. It will really help you budget when rehabbing a flip home.


Landlording on Auto-Pilot


Mike Butler gives an awesome entryway for people that need to understand Landlord-Tenant's rights and want to either start a successful long-term Landlord career or need to optimize their current one.

This is possibly the funniest book on the list. The way Butler tells his saga is very entertaining. We're grateful he shares a lot of personal tales that sometimes makes you laugh, and sometimes makes you cry.



How to win in commercial real estate investing


Hey, we couldn't leave commercial real estate off, right?

R. Craig Coppola has written a lot of books about Commercial Real Estate, but we feel this – his debut book - is the best for people looking for a 360 view of commercial real estate. Commercial real estate is a beast of its own, so you should learn the fundamentals before trying unusual commercial real estate ideas and Coppola's book with its comprehensive view of budgeting, strategies and analysis comparing residential to commercial does the job and makes this one of the best real estate books for agents in 2021.


What real estate books have you been reading lately? Tell us in the comments!