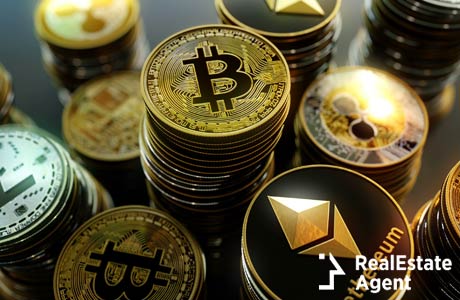 For decades, the world of finance was an oblique, inaccessible sphere that only those with the proper education and preparation could hope to break into. Hedge funds and investment firms reigned supreme, firmly holding a monopoly on everything even tangentially related to the industry of making money by spending money.

This was an era defined by elitist financial institutions and fast thinking investors, where the big fish ate the little fish without a second thought. There have always been day traders and small stock trading firms, but these were at the mercy of their larger, more powerful and overwhelmingly wealthier counterparts.
In the age of the internet, this paradigm has rapidly begun to shift. Stock trading applications, online banking, peer-to-peer crypto trading platforms and other new arrivals on the scene have begun to weaken the iron grip in which large financial institutions have held the world of finance. The financial establishment is weakening, and the little guys are realizing there's a whole lot of power in numbers.
Among all of these new developments, there's one new arrival that's shaking things up more than just about anything else: cryptocurrency. This revolutionary technology has only been around for a little more than a decade, but in that time it has managed to threaten the very foundations of the global financial system.
Crypto: what is it, and why is it important?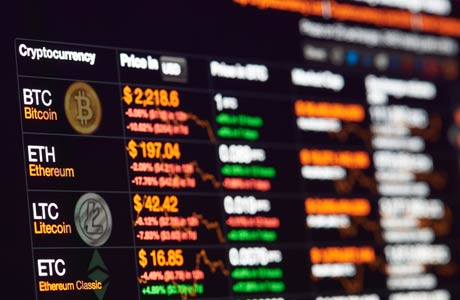 So what is this newfangled technology, and why is it so important? The answer to this question could get very, very complicated and difficult to follow, so we won't focus on the technical details. Instead, we'll do our best to explain what cryptocurrency is and how it works in simple terms, while still being as concise as possible.
The term "cryptocurrency" encompasses a wide category of decentralized digital currencies that can be exchanged for physical currency. While this isn't unilaterally applicable to all cryptocurrencies, it applies to most. Most successful cryptocurrencies use a decentralized ledger known as blockchain to track transactions conducted on the network.
Cryptocurrency as a concept has gained a lot of traction in recent years due to rapid appreciation of some of the most popular cryptocurrencies such as Bitcoin, Ethereum and Litecoin. These currencies offer the ability to conduct transactions online with complete anonymity, great ease and little to no wait time.
There are a host of other benefits and downsides to cryptocurrency as a concept, but the bottom line is that it's gaining popularity at an astonishing rate. With more and more retailers and businesses accepting the most popular cryptocurrencies as payment, there's no telling how far crypto will go towards replacing physical currency as a means of conducting business.
Crypto-friendly real estate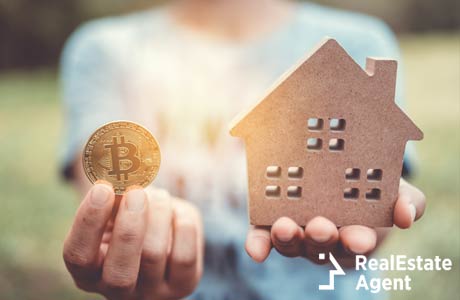 One of the most promising areas in which crypto is rapidly gaining widespread popularity is real estate. There are a number of reasons why cryptocurrency is the perfect medium of exchange for this business, if you think about it. Transfers are instant and secure, and there are no commissions to be paid or middlemen to negotiate with.
Although it's still a relatively novel practice, there is a rapidly growing community of real estate agents who have begun accepting cryptocurrency as payment. These real estate agents gain a great deal of flexibility, enhanced security and the ability to conduct transactions remotely with virtually no risk whatsoever.
This isn't to say that there aren't downsides to this novel new technology being used in this context. The value of cryptocurrencies fluctuates wildly compared to the value of paper currencies, and this uncertainty can make pricing problematic. Additionally, crypto wallets are only accessible by using an alphanumeric key that, if lost, can mean the loss of all the coins in the wallet.
Despite these downsides, there's definitely a lot to be said to the credit of crypto based real estate. Anyone looking to find a real estate who is forward facing and ambitious will no doubt be impressed to find one that deals in cryptocurrency. If it's incorporated into advertising materials, it can result in a lot of favorable exposure.
What cryptocurrency is best for real estate?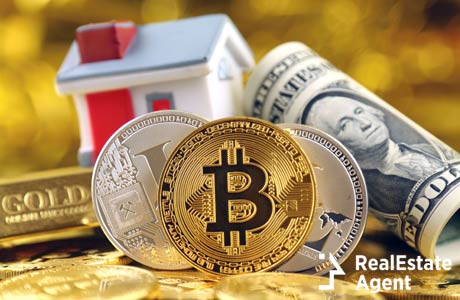 Now that we've taken a look at why cryptocurrency is a viable medium for exchange in the world of real estate (albeit a brief one), as a real estate agent you may be wondering which cryptocurrency is best for real estate. Given how many different currencies are available on the market, deciding which currency is best for purchasing real estate can be a real challenge.

There are over 4,000 cryptocurrencies available on the market at the moment, and this number only grows as time goes on. In spite of this, there are only a few that have gained the popularity and widespread use that makes them viable for purchasing real estate. In the following sections, we'll discuss the big three: Bitcoin, Litecoin and Etheruem. If we have time, we might even take a look at everyone's favorite canine crypto, Dogecoin!
$BTC - Bitcoin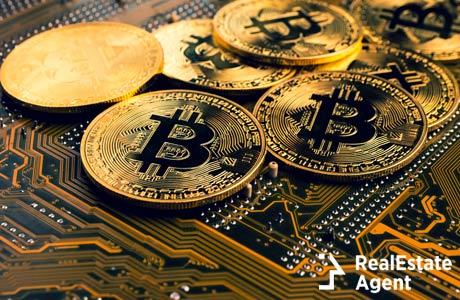 Although Bitcoin wasn't the first cryptocurrency to gain widespread notoriety, it was most certainly the first to gain mainstream recognition and appeal. Initially selling for pennies on the dollar, one Bitcoin is now worth over $50,000 USD! This dramatic increase has been largely responsible for the explosion of interest and investment into crypto that we've witnessed in recent years.
The success of Bitcoin is largely attributable to its decentralized structure and public ledger that make fraud virtually impossible. The clarity and ease of use that Bitcoin offers also make it highly attractive to those with less technical knowledge, and its stability is very attractive to business-oriented contexts. Bitcoin is the most widely accepted crypto currency.
$LTC - Litecoin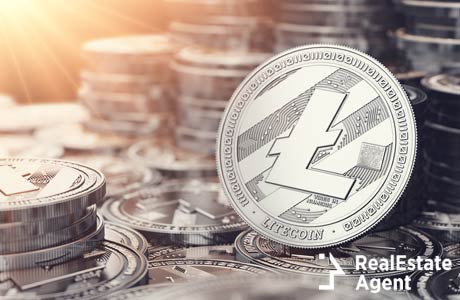 A much newer arrival to the crypto caper is the aptly named Litecoin. A simple and cheap cryptocurrency, Litecoin was introduced as an affordable and accessible alternative to Bitcoin, all while preserving the security and stability benefits of the latter. Since its inception, Litecoin has grown to be widely used, and its current value stands at around $330.
With its lower market value, Litecoin is subject to a lot of fluctuation, something that must be accounted for by anyone considering accepting it as payment. Despite its tendency to fluctuate, the general trend we've been seeing is positive, meaning that payments of Litecoin are likely to be an appreciating asset over the long term.
$ETH - Ethereum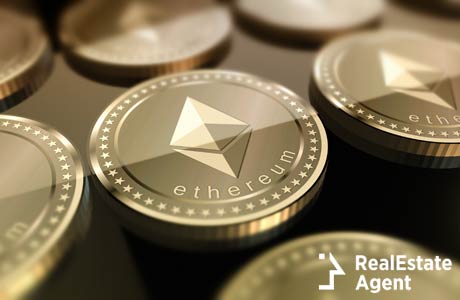 One of Bitcoin's biggest competitors in the market is Ethereum, another blockchain cryptocurrency that is similar in design but differs somewhat in functionality. Ethereum offers its users improved security and ease of use that is absent from many other "bare bones" cryptocurrencies on the market.
Ethereum is one of the fastest growing cryptocurrencies, outpacing even Bitcoin in its appreciation ratios. Currently standing at around $4,000 a coin, the value of Ethereum has increased dramatically in recent months and shows no signs of slowing down. By all metrics, it's a great option for anyone looking to incorporate it into their business model.
$DOGE - Dogecoin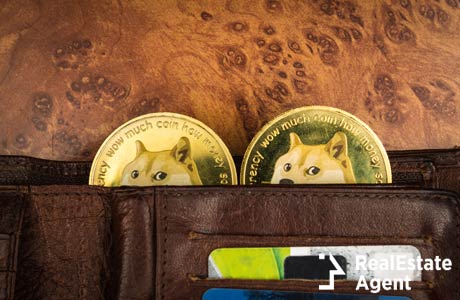 This one is a bit of a meme, but in recent months it's gone from a "joke cryptocurrency" to being one of the fastest growing coins on the market. With support from some of the biggest names in tech like Elon Musk and Mark Cuban, this seemingly pointless cryptocurrency has a lot more going for it than many people initially realized.
At the beginning of 2021, Doge was slowly appreciating but still selling for less than 0.5 cents a coin USD. Then, seemingly out of nowhere, the price jumped above 1 cent per coin. It still wasn't worth all that much, but this got people's attention. In the past couple of months, this trend has continued, seeing the price per coin reach 0.73 cents a coin! Hailed as "the people's crypto", this coin is now accepted by thousands of U.S. and international businesses.
Conclusion
In the past decade, the introduction and popularization of cryptocurrency has shaken the world's financial institutions to their foundations. Many still decry crypto as a "farce", but there's no denying its potential. In real estate and in other areas, this novel technology may just replace cold hard cash in the years to come. Here's hoping!