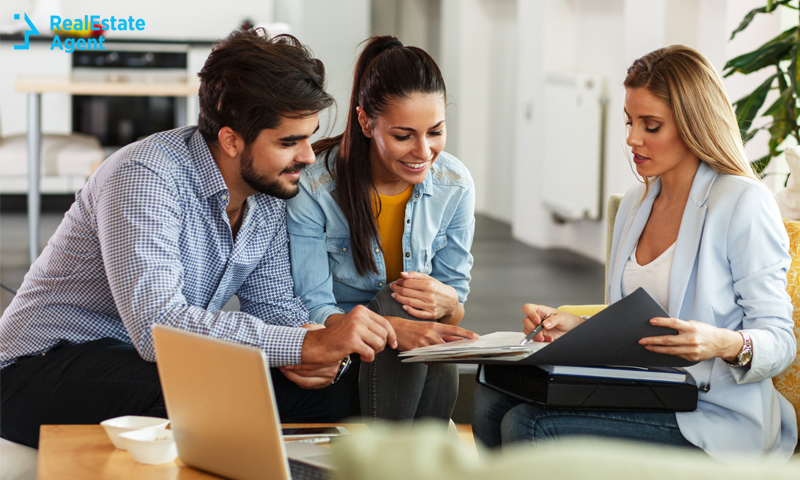 One of the best careers available today is that of real estate agent. Flexible hours, attractive salary and a demanding but rewarding list of responsibilities, this is a dream job for ambitious opportunity seekers. The thrill of making a difficult sale to reluctant clients is one that can seldom be found elsewhere. And selling is only the beginning! As a real estate agent, you'll help your clients buy and rent, finding them the best deals and making sure everyone leaves smiling and satisfied.
What it takes to become a real estate agent
Now, this isn't an easy career to break into. If you want to be a real estate agent, you'll need to work hard and commit. You'll have to attend real estate agent courses to get a firm grasp on basic real estate principles. In short, you'll have to work hard. The amount of money you earn as a real estate agent will be determined by how much you move, how many contacts you make, and how shrewd you are in your business decisions. So let's get into it, and find out if becoming a real estate agent is the right path for you, and if it is, how to go about becoming one!
Is real estate agent a good career for you?
While it is a highly engaging and rewarding job, being a real estate agent isn't for everyone. Working as a real estate agent is demanding, and you'll need to make sacrifices if you want to be a high powered real estate mogul. Of course, this is where another of the great perks of real estate comes into place; you get to decide what kind of real estate agent you want to be.
For example, if you are not the primary source of income for your household and you simply want to contribute a supplementary cash flow, you can make as many or as few sales as your schedule allows. If you are the primary source of income, you have the opportunity to earn significantly more than you might in a more conventional career.
So what should you take into account when deciding whether or not real estate is right for you? And, if you think real estate is right for you, what kind of real estate agent are you going to be? Well, to begin with, you have to find out what you want from your career.
While real estate can be highly lucrative, but it requires a firm grasp of real estate principles and shrewd negotiation, salesman and networking skills. If you aren't extroverted and comfortable talking to people, you might be better off finding a career that is more focused on technical rather than social skills.
However, if you are savvy with sales and like working with people, you'll probably enjoy working in real estate! The work put in/reward received dynamic is rewarding and makes you want to push yourself and perform better than ever before. If this sounds like this is true in your case, becoming a real estate agent might just be the thing for you!
How long does it take to become a real estate agent
Becoming a real estate agent can be a long and arduous process. The period of time from when you first start working as a realtor under a principal broker can be anywhere from three to five years. Fortunately, during this time you will still be making commission on your sales and functioning as a regular real estate agent, albeit one with limited experience.
How to get started in a real estate career
So, you've decided that real estate is the career path you want to take; how are you going to get your start in real estate? Let's dive in.
Attend real estate education courses
The first thing you'll want to do is begin to educate yourself on the ins and outs of being a real estate agent. A real estate agent has to know everything about real estate. You need to know terms like accession and accretion and be able to identify them in the listings you are trying to sell.
You need to know common pitfalls of being a real estate agent, so you don't unwittingly break any laws or commit any violations that might cause you to lose your license. You need to know what different types of home buyers and renterer's insurance are needed for each different type of listing.
Last but not least, you will have to learn how to work people. This is one of the most important skills of a real estate agent: the ability to work for, with and around people while making sure everyone comes out the other satisfied with the part they played in the business dealings.
Now, as you may have guessed, the best way to acquire these skills is to attend a real estate training course. These are available online from a number of reputable sources, or at community or state colleges all around the US for a considerable fee. Wherever you choose to acquire your training, you won't regret it; the skills you learn here will soon be providing you with an enviable salary and excellent benefits.
Find a principal broker
When getting their start as a real estate agent, most realtors begin by finding a principal broker. Most realtors work under a principal broker for at least a couple years before applying for their broker's license. While working under your principal broker, you will work as a regular real estate agent, finding clients, making sales and doing other typical real estate agent tasks. However, your broker will sign documents and complete the business deals you put together.
Many real estate brokers will gladly accept another agent to help them with their workload, and you'll get an opportunity to learn the tricks of the trade and prove your skills as a real estate agent. Another reason this is so essential is because it gives you the opportunity to talk to clients and establish a reputation as an honest and upstanding realtor. One of the most valuable assets as a real estate agent is a good reputation; after all, word of mouth is the best form of advertisement!
While this may seem limiting, it's quite essential if you want to fulfill your maximum potential as a real estate agent. This time spent under your principal broker will guide you through the daily obstacles a real estate agent faces and teach you how to overcome or avoid them. They will give you tips on how to sell more efficiently, and how to achieve the best results when working with difficult clients. In short, your real estate agent will walk you through the things that you won't learn in a textbook or at a seminar; they'll prepare you to work in the real world.
Getting your real estate license
When you feel that you are ready to become a full fledged independent real estate agent, you'll want to apply for your broker's license, which will include taking whatever test your state requires you to take to become a broker.
Before you actually proceed to take the exam and become a full fledged broker, you'll have to ask yourself a couple of questions. Are you really ready to strike out on your own? While working as your own broker offers a very enjoyable sense of freedom, it also comes with a load of responsibilities. If you aren't prepared, this responsibility can be downright crushing if you aren't prepared for it.
How much it costs to become a real estate agent
Another question you'll need to ask yourself is whether or not you have the financial stability to absorb the financial difficulties you may encounter when starting out on your own. Even if you continue working for the same agency, these difficulties may still present themselves. If you're thinking of getting your broker's license, you'll want to keep this in mind.
Taking your real estate broker's exam
If you've asked yourself these questions and you feel like you really are ready to become your own broker, you'll need to take your state's real estate agent exam. The exam will vary in content and context from state to state, so you'll want to read up on what it entails before you go to take it . You might also want to brush up on your real estate knowledge and study everything from the definitions of real estate terms to important real estate-related legislation before you go in to take the test. Once you've taken it, you're officially a full-fledged real estate broker.
If you're interested in becoming a real estate agent, RealEstateAgent.com is a great resource that will help you throughout the process and make sure you can speak knowledgeably about everything real estate-related. With everything from a helpful glossary with definitions for every real estate term in the book to articles that will keep you up to date with everything real estate news.
We hope this guide was of some help to you in pursuing a career in real estate. Ultimately, whether or not you succeed in your new career will depend on the extent to which you apply yourself and move property. If you give your all, you will succeed; if you don't you wont. So get out there and move some houses!