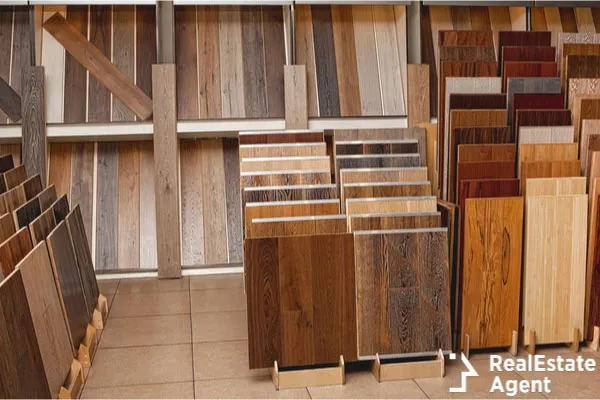 At home, we are all kings and queens. Our homes, no matter how big or small, are our kingdoms. But does that mean that we should only walk on red carpets? Well, not necessarily. The sound of the heels on tiles is something so feminine. So if that sound is appealing to you then a form of tile would be your thing. If not, then let's look further in regards to what types of flooring should we choose.
Real estate agents listed on The Official Real Estate Agent Directory ® usually hear this question when they show a vanilla shell to their clients. The big disadvantage in that particular situation is that an old rugged floor automatically attracts attention and the potential buyers would definitely want to upgrade it. The floor is not as important when you purchase a fully furnished house, although home buyers shouldn't be afraid to move the carpets or other decorative items that could have been placed strategically to cover a worn out area or a dirty spot. Disclosure in real estate must be taken seriously, so don't rely only on the seller's assurance.
However, floors are important from both an aesthetic and a practical point of view. When you first step in a room, floors may not draw your sight, but they give you a feeling, a sensation in your feet. Is it soft? Is it slippery? Or is it messy, with all kinds of things that you have to avoid at every step such as lego pieces, books, and clothes? We would go as far as to say that flooring gives you a certain attitude that impresses in the way you walk. An expensive floor will force you to be more careful with it, to protect it and to allot special time for its maintenance, whereas, for a cheaper floor, you may not care as much if you stain or scratch it. While the price is a huge factor that must be taken into account when replacing floors, it is not the only one. You may want to know what type of flooring is easiest to install, what flooring is best in each room of the house, as well as the difference between the main types of flooring. Here are a few answers for you.
Floors Throughout History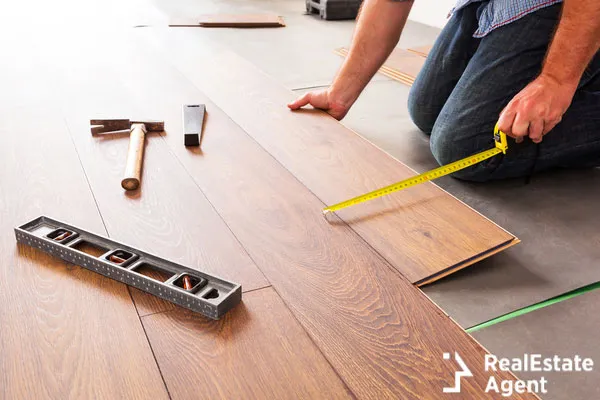 The first basic shoes were made of leather and we could say that the shoes were the first flooring, the first layer between the bare foot and earth. But, ages ago, most people were nomadic and they needed something to cover the soil in their tents. At first, the ground was leveled and served as a floor itself, but later, handmade rugs appeared. Persian rugs are probably the most famous, however, cured animal skins had definitely served as rugs, too.
As people began to settle in one place and form villages and towns, different house styles started to emerge. People had relied on basic, raw green building materials before the concrete was invented. Stone was also used for durability and decoration. Some of the oldest stone floors can still be seen in the pyramids of Giza, in Egypt. Today, natural stone is one of the most expensive flooring options. Stone's biggest disadvantage? Indoors, it was cold. So to overcome this weak point, layering techniques have evolved over the years and many are still in use today.
Floors gradually became more practical and sanitary. Ages ago, litter was left on the floor until it hardened. In North America, the sand was often used to cover the floors and when the dirt became unbearable, it was wiped out and replaced. But another way to get rid of odors back then was to sprinkle mint leaves on the ground. By stepping on them, the mint oil was released like an air-freshener. Nowadays, they would have used essential oil diffusers.
Which type of flooring is easiest to install?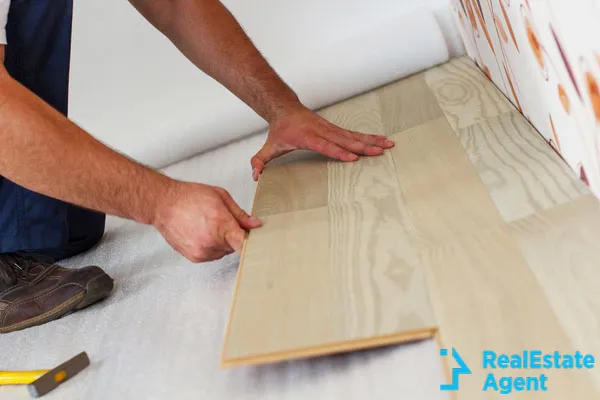 Since nobody wants to live on compacted soil anymore, flooring is in high demand. The biggest challenge is to choose the right one. The flooring market has seen a steady increase over the past three years. The revenue in this industry is expected to be $27 billion in 2019, and it doesn't show signs of decline any time soon. Globally, the highest demand for floors is in the US. Should we be surprised? Not at all. Home renovation spending is also growing, while 70% of Americans prefer turning home improvements into DIY projects. So, if you randomly knock on a door on a Saturday, chances are that you will be interrupting a very important home improvement that involves the whole family, such as the installation of a new floor or painting and redecorating a room.
Some floors are easy to install, and after watching a few video tutorials on YouTube, you may feel like an expert. However, the easiest floor to install seems to be either linoleum or the sheet vinyl flooring. All you need is precise measurements and a good double-sided roll of tape. The former can last up to 40 years, while the latter has a lifespan of 20 years. These types of flooring are easy to install and costs a fraction of what hardwood flooring costs. It can even be used in the bathroom if you seal the edges with silicone.
However, some argue that this type of flooring is also toxic, especially for children, who are exposed to phthalates, like Di(2-ethylhexyl) Phthalate (DEHP). But this chemical is present in all the homes, regardless of flooring materials. On top of this, 50% of the vinyl produced today is used in construction, to replace wood or glass.
In case you didn't know, linoleum is biodegradable, being made up by natural substances, mainly linseed oil, in addition to cork, natural resins, pigments, and limestone. Home buyers purchasing a house built in the 1950s or 1980s shouldn't be surprised to find linoleum floors, as they were quite the hype in that period. Surprisingly, though, linoleum had been invented at least a century before, in Great Britain. It is said that a bookmaker named Frederick Walton invented linoleum in 1861 in the town of Kirkcaldy, in Scotland, also known as "the town that floored the world". The good news is that old linoleum floors can be recycled or composted and later can be added in the substrate of your organic garden.
Vinyl, on the other hand, is a plastic material, so it risks ending up in landfills, where it can further generate other toxic chemicals, leading to soil contamination. But vinyl floors can be recycled. PVC products (including pets, floors, and cellophane) can be melted and reused.
What type of flooring is the most economical?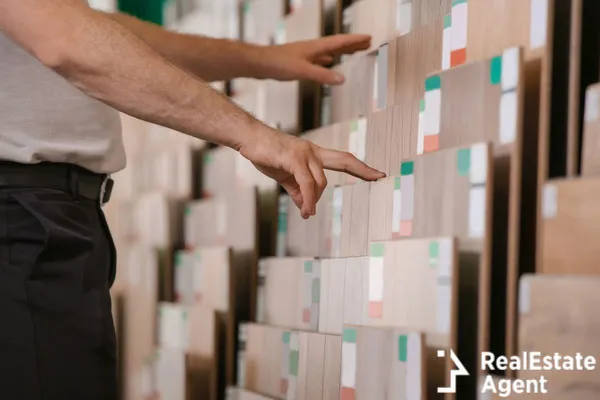 To find the most economical option for covering the floor, it's enough to look at the most popular floorings in the US. Textile flooring has a market share of 47.1%. Starting at $0.69 per square foot, should we be surprised?
The installation costs between $7 and $12 per square foot, but big retailers offer free installation for certain types of special carpets. Textile flooring offers a great variety of textures, colors, and patterns. Nothing can beat it! The main material used for carpets is wool, but synthetic materials such as nylon, acrylic, and polyester are also quite common. However, according to a report published by Catalina Research and featured in Floor Covering Weekly magazine, demand for wall-to-wall carpets has been lower lately, the market moving towards hard surface flooring.
Depending on the look you want, you can save a lot of money by choosing laminate flooring instead of hardwood. You get the wood illusion without breaking the bank.
For bathrooms and kitchens, ceramic tiles are among the most economical types of flooring, though linoleum or vinyl sheets are also practical and cheap.
Types of flooring for every room in your home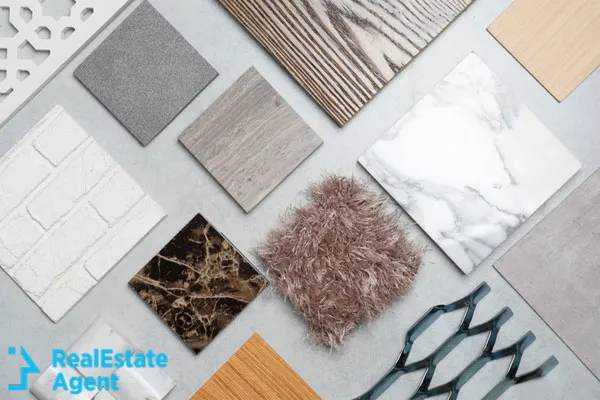 How does the prototypical American home look like? Well, it's a detached single family house, with three bedrooms and 2 bathrooms, with a gross living area around 1800 sq. ft. (US Census 2011 American Housing Survey), and they are getting bigger.
The average residential floor space per capita is 832 sq. ft. according to shrinkthatfootprint[dot]com, and a lot of it must be covered. Moreover, in larger homes, there is enough space for specialty rooms such as a home gym or state-of-the-art home theater, both in need of special flooring. So, let's see what the best pick would be for every room.
Types of flooring for the kitchen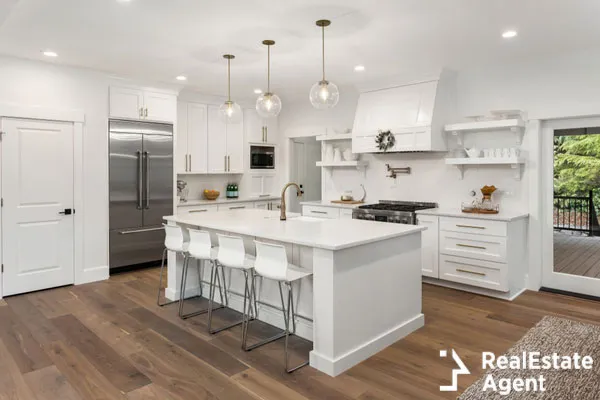 Now, it really depends on the type of home you're living in. For example, if you were living in a studio apartment, you would rather have the whole room covered with the same flooring. So, the kitchen area would probably be covered with linoleum or laminate floor, for both budgeting reasons and the ease of installation, though hardwood flooring could be a better choice, given its durability.
In homes where the kitchen covers a larger surface, tiles, especially non-slippery ones, could be a great option, as they are easy to clean and don't retain spills or stains. Laminated flooring is also popular, but moisture is not its best friend. However, do you want to know what kind of flooring you are more likely to find in busy Michelin-starred restaurant? It's either vinyl or ceramic tiles. And even stone floors can be found in some cases. So, you want a neat, smooth surface, without embossed patterns, that doesn't provide hiding places for microbes and bacteria. Also, avoid colorful patterns if you are living with someone who is visually impaired. In this way, if he or she drops something on the floor, it will be easier to find.
Types of flooring for the bathroom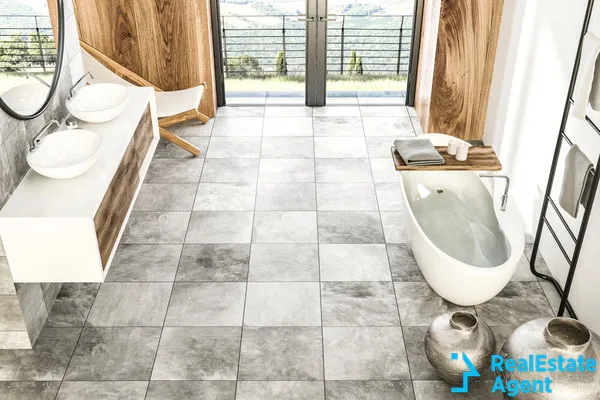 Since bathrooms are usually small, a bathroom remodel can be scheduled every four or five years. You may want to stay fresh with the new color trends, the latest tap design and the like. And there's nothing wrong about that. However, as you get older, you may want to consider some improvements for people with special needs, just in case you feel like your mobility has decreased.
Preventing falls is of utmost importance in this area especially if your spouse is suffering from osteoporosis. So, over time, you may transition from porcelain tiles (which are waterproof) to non-slippery tiles or even rubber flooring for a senior-friendly bathroom. Linoleum and vinyl are also good options for bathrooms.
Flooring types for living rooms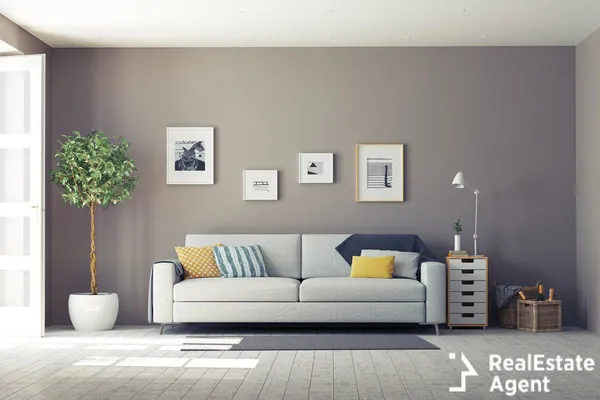 Usually the part of the house where you spend most of your time, where you entertain and play with your children, the living room is probably the largest room in the house. You have a lot of freedom here, and many options to choose from:
cork flooring
Laminated flooring
Luxury vinyl tiles
Hardwood flooring
Marble slabs
Tiles
Glass mosaic
Wall-to-wall carpet or area rugs
The flooring is normally part of a broad design concept developed by an interior designer. However, for DIYers, things aren't too complicated and they should go with their feelings. You can never go wrong with wood, be it natural or laminated patterns. Marble, tiles, and glass mosaic are maybe more suitable in living rooms with tall ceilings, with a more formal approach. Each flooring has its pros and cons. Some will feel cheap, while others will make your home look like a palace. What you should avoid? Striking contrasts. Don't choose a very expensive flooring only to cover it with cheap rugs. If you're aiming for the mid-range prices, stick with them throughout your interior design. In this way, you will get a more cohesive look and feel.
Bedroom flooring options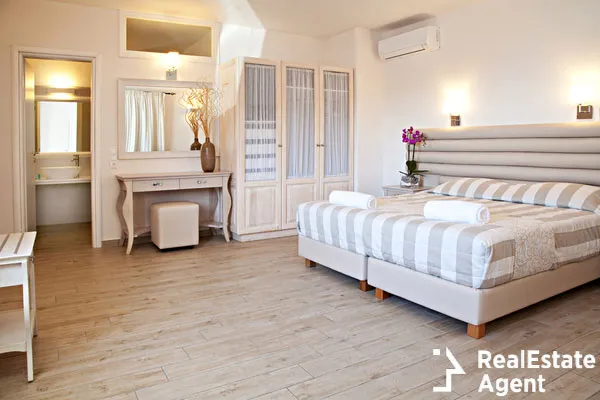 To minimize waste, you may want to stick to the same flooring you have just chosen for the living room. What type of flooring to choose? Well, it could depend on how often you get up at night. If nocturnal awakenings are a serious problem for you and your spouse, you may want to have a carpet on the floor instead of a hard floor, to diminish the noise you make when you walk to the bathroom or kitchen. Other than that, area rugs work just fine. Also, you may want a textured floor in order to have better adherence when limping dazzled in the middle of the night.
If you are living with a person with special needs, though, hard floors are better for moving the wheelchair around. If that person is not able to walk very well, put some knee pads on their knees to prevent damage to that joint in the event of a fall.
In five star hotels, carpet is required or at least bedside rugs, in case the floor has already received special treatment.
Flooring for the entrance and hallways
Now, you may agree with us when we say that the flooring sets the mood when entering a house. It tells a lot about the hosts. Is there a well-designated area for footwear near the door? Or can you walk in with your shoes on? In the US, there is no problem if you enter someone's house with the shoes on. Every house has its rules, though. So, in two-story houses, you may find ceramic or vinyl tiles at the entrance and on the hallway, covered with an area rug, and wall-to-wall carpet upstairs, while the stairs might be covered with a carpet as well. At the entrance, you want a floor that is easy to clean and easy to replace, given the fact that it is exposed to a lot of traffic.
Upstairs, though, you can steal some ideas from the five star hotels, where silence is valued. Their hallways are covered with thick nylon carpets with intricate patterns that break the monotony.
Flooring for special rooms
Theater room carpet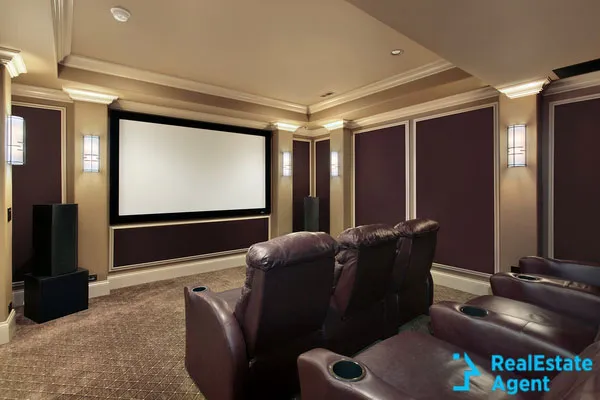 Starting at about $2 per square foot, media room carpets are usually thicker and made of nylon. Why should you choose carpet for the media room? For a better sound quality.
Hard flooring would make the sound bounce to the ceiling and back creating an undesired echo effect. But the carpet acts like a sponge, absorbing the sound. Now, there are many options available, from classic patterns, to abstract ones, as well as movie-themed patterns.
Home gym rubber floor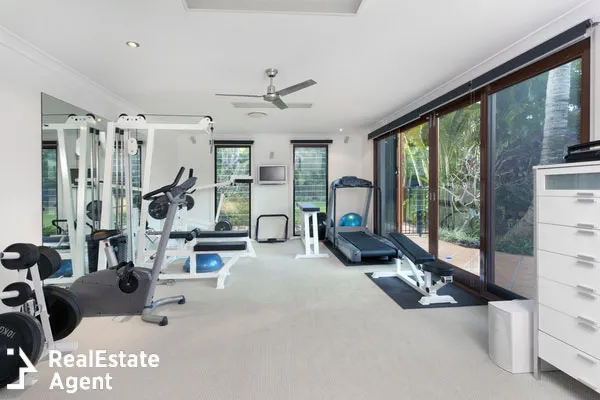 Changing your habits to include daily physical activity may be challenging, but not impossible. Whether you change an empty bedroom into a home gym or your basement, flooring is extremely important. First of all, you want to diminish the sound as well as to provide a softer landing surface for your joints.
Moreover, you want a non-slippery surface that will keep your feet in place for whatever record you are trying to break. Rubber floors are quite affordable, at about $2 per square foot for the rolled rubber floors, going up from there. Interlocking foam pads are also great, especially if your home gym is more of a "corner-gym" or temporary one.
Basement flooring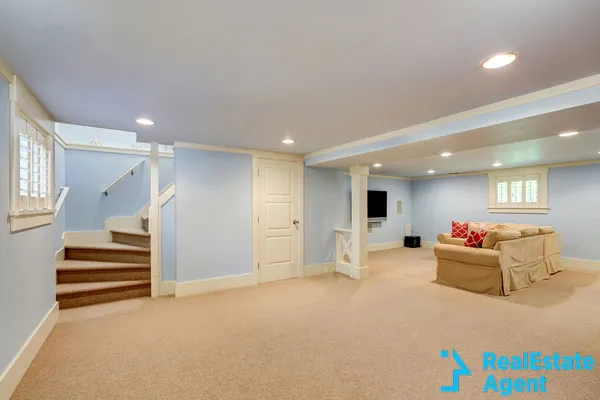 Basement remodels demand special attention when it comes to flooring. But until you get to cover the floor with the final layer, there is a lot of work to be done. Waterproofing comes first. And because the water table is higher in the South, you are more likely to find houses with basements in the North. Choose flooring that withstands high humidity levels. Vinyl planks or tiles, rubber flooring or interlocking tiles, as well as ceramic or porcelain tiles are among the best options, once the floor has been leveled.
How to cover a heated floor?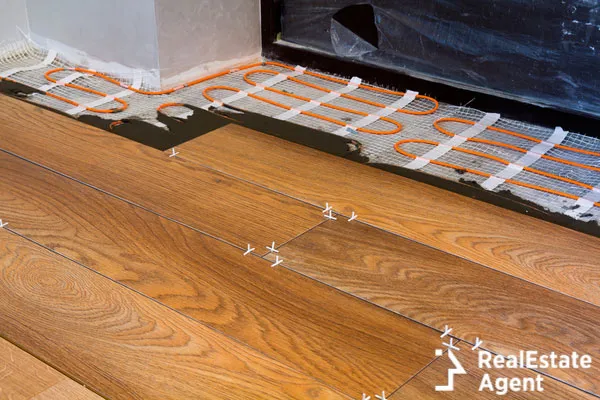 So, you have decided that the extra heat that comes from the floor will keep your house warmer during the winter months. You are right only if you keep the following advice in mind. Heating floors work great with porous materials that allow the air to flow through, like ceramic tiles and stone. To put a hardwood floor over a heated floor is to cast pearls before swine - the wood is a dynamic green building material that expands and contracts as the temperature fluctuates, so it will give you a headache. If you really want to step on wood, choose either laminated floors or engineered wood flooring that comes in bamboo, too. Vinyl and other toxic floors will release chemicals when heated, so you should avoid them too. And for maximum benefits, don't cover the whole floor with a carpet, because it is an insulating material that will keep your room far from the ideal temperature. Choose smaller rugs instead.
Neglected and underappreciated in home decoration, floors should be at least as important as the walls. In fact, in the hospitality industry, the floors are treated like "the fifth wall". How many starts would your house receive if it were to be assessed based on its flooring alone? And what should you change in order to live in a five star "hometel"?