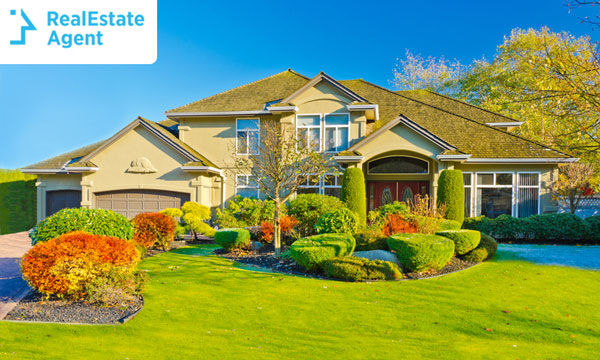 They say April showers bring May flowers, but in many parts of the USA May had a lot of rain, so we guess June is the month bringing them…. With that in mind, we have decided to write a post about a real estate spring necessity: curb appeal!
We've already mentioned that June will be the quickest month to sell a house and gave home buyers tips on how to buy a house quickly, so it's only fair we also provide home sellers with some spring landscaping ideas to improve the curb appeal of their house and attract those fast buyers, after all, a pleasant garden décor is one of the most effective ways to do that.
First and foremost, all of our tips in this post exclude the lawn itself. With all of the flower and plants arrangements we propose in this article, we're expecting the lawn to beneath it to look perfect; is the foundation of the home garden design. If you don't have time and knowledge to do it, maybe try artificial grass? Don't frown upon it; truth is that in the Natural Grass vs. Artificial Grass, artificial grass comes out better than anyone would've expected.
Second, it's important to note that to properly elevate your home garden design to the max, you need to take into consideration the style of your house and, in this case, your intentions. What you want to accomplish here is nothing more than to make people look at your house, agreed? Everything you do to your garden décor needs to have one mission: driving people to your front door and, hopefully, making an offer. So, to do that, we'll focus on front yard landscaping ideas and we'll separate them by distance: we'll start with ideas for you to do it close to the house, along the pathway to the house and, finally, close to the street.
Let's start with front yard landscaping ideas close to the house.
A small water fountain can bring a distinctive value to your house. But we're not talking about monumental fountains; it will be too expensive and, if not done right, can actually backfire and just screw your overall home garden design. We're talking about petite waterways just to add that delightful current sound and bring a nice touch to your entryway garden décor. The closer to the house, the better. Do you have an unused space between the driveway and the home door? Populate it with low plants, rocks and a small fountain (that drips from a pottery vase or a bowl) and you're ready to go. Regarding the mechanics behind the fountain, there are some ready-made ones, but you'd be better off getting a custom one with a contractor. Fish? You might have them, but it can attract other animals and animals don't usually buy houses, but rather scare away people that do.
What about a floral border under the window? This one is so close to the house it's actually ON the house, right? And it can be a great touch of color that draws people's attention to it from afar with bushy plants and other hanging plants or just nice little touches seen up close like succulent flowers.
Our last close to the home garden décor proposition is a somewhat vague one to people with two-story houses. Feeling overwhelmed by the size of the house is good – churches' architectures do that since forever – but it's a great idea to build some cohesion and a sense of togetherness between where your feet stomp and where you head wanders. Take a look at your roof and try to exclusively plant flowers that match its color near the home.
Now, moving on to the pathway, let's start with a really common one: bushes. You can have both natural round shaped ones or cut in a rectangular shape. They are great not only to subtly let people know they're not supposed to walk on the grass but also to subliminally encourage buyers to walk to your door. And very low maintenance. Another option – as low maintenance as this – is substituting the shrubs by plants in pots halfway buried to the ground. This is great for novice gardeners. Just go to Home Depot and buy several. If you manage to kill them all because you're not trying hard enough on the gardening gig (shame on you) just go back, buy more and replace them. Or, try an unnatural one: use light lamps instead of plants to delimitate the pathway. Besides being helpful at night, it can extend the curb appeal of your house until the wee hours.
And how about having a practical object serving as a small garden décor station? This is great for people with long front lawns. You can have a cool little spot in the middle where you can place a wheelbarrow, a rustic wagon, a retro bike or even a bench and then put some flower pots on it. Go for the type of plants that spill over the sides and decorate with retro signs; it will definitely be an eye-catcher. Maybe even put the "For Sale" sign close by to draw more attention and not look disconnected from the rest of your home garden design.
Let's move closer to the street now.
This is for the homeowners with picket fences on their front yard. We understand the necessity of fencing your land, and also the desire to have those beautiful white picket fences. It's indeed the easiest way to get curb appeal points and most first-time homeowners love that idea! However to the ones that are not necessarily looking for a fence, it kind of drives attention away from the house. Well, you can't take it down, right? So we think you should go deep and double up the attention to the fence so people driving-by get so attracted to it, they become curious to see what's over the fence. Have a low garden filled with colorful flowers under the fence and a few roses growing between the vertical pickets to lure them in and put the for sale sign nearby.
And our last front yard landscaping idea to improve your curb appeal is the furthest from the home possible; it's the only one that is actually on the curb: your mailbox! How about using your mailbox as a flower bed! Sometimes this one is not even considered to be on your premises, right? And that's why it can be important to decorate it. We are so accustomed living in our own worlds with our iPhones and iPods that sometimes we just look straight ahead and miss opportunities around us - like, say, the beautiful house we could buy if we weren't so immersed in our own little world! Now, the mailbox is right there! If we don't look at it we'll stumble on it! So, why not make it special so people notice and spark their curiosity about the home?

Before we conclude our spring landscaping ideas and you run to your favorite gardening store, a few quick curb appeal tips for people with a tree or more on their lawn:

You'll need to take good care of it and try to make them work in favor of your home garden design. If it covers part of your house from the street, maybe add a swing or something that brings a sense of it belonging to the house. It's a subtle notion, but you want to sell it as an asset of the house rather than an inconvenience. If you have more than one, we recommend circular shaped colorful flower beds around them, to bring some unity. And, finally, if you have one that died and you're allowed to cut it: make this an opportunity to use it like the practical object garden décor: plant on top of the tree trunk; it will look lovely!

And for all of those front yard landscaping ideas, especially because summer is right around the corner, it's important to know how to keep mosquitoes away from your house, so remember to drain the excess of water as best you can after it rains, and do all the proper maintenance needed. Having a lot of flying pest on your house will not be good when seducing home buyers.