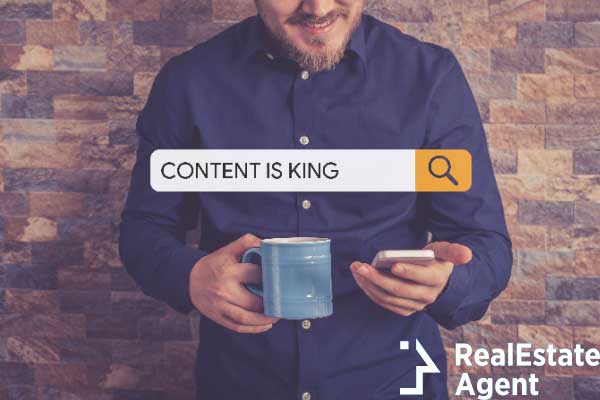 As a real estate professional, you probably wonder why creating content for real estate agents has anything to do with the job, itself. But companies and agents picking up the routine made it evident that social media marketing and a solid overall web marketing strategy with content can be much more effective than paid advertisements. Well, as an agent, your ultimate goal is to sell, and real estate content marketing is the best tool to help you do that. Content is king; and this king has many faces covering the same essence. Increasing traffic, building reputation, expanding reach, growing value, and ultimately, boosting sales - those are all achieved by the same approach: a solid and consistent content marketing strategy.

Learning how to do it right takes time and determination, but the results are worth it. Lately, more and more people from different backgrounds and businesses turn to content-creating strategies and tricks for fluffing their brands up. Content for real estate agents is key in nurturing relationships based on trust with their growing clientele. Trustworthiness is the most critical building block of any successful business in the long run. Content marketing for real estate agents is no different, and the sooner you start doing it, the faster you'll see growth. Why is content for real estate agents so important? In this article, you'll find everything you need to know about your options and how to implement strategies to get the desired results.
Why content marketing works
Times change and traditional marketing doesn't work anymore. Watching TV is going out of fashion, most radio ads sound horribly outdated, and let's face it: those are unable to engage people today. As the flow of information increases in our lives, there's a growing need for more genuine and trustworthy interaction, even on the level of advertisements. Most people use an ad blocker anyway, so traditional ads might not even reach as many people.
Free organic content
Content marketing is different because it reaches people through organic search and is meant to create a connection with the reader by sharing the information and insight they are looking for. What makes it much better than traditional advertising is the lack of pushing anything on the consumer. A bad and pushy advertising strategy, which only focuses on the product, will eventually drive people away. Content marketing lets the reader have the most important role in the equation. This creates a sense of respect already, which may secure the base of a trusting relationship - the key ingredient in successful marketing with content for real estate agents.
Consistent and flexible
Professional content marketing is in everyone's life, whether conscious of it or not. The best content marketers use technology developed to gain insight into consumer behavior and preferences to better tailor content to the needs of their audience. If you want to succeed with your real estate content, you have to be a keen creator, use analytics knowledge, and constantly learn how to get the best out of the data you have. The best marketing businesses have a flexible content marketing strategy that they measure and constantly bend to fit changes. Content marketing for real estate agents can benefit from those tools.
Content marketing for real estate agents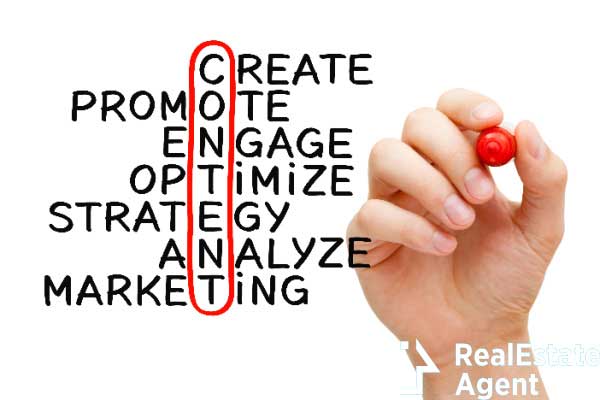 When it comes to content marketing for real estate agents, it's good to know that there's always going to be a need for content in this field. The market is constantly changing, and people wanting to buy or sell will always need to be updated on the availability of properties and insight into various aspects that are never the same. Content helps agents connect and build a relationship with the communities they work in.

Visibility is credibility, so it's essential that people can find you and your real estate content. By watching your videos or reading your blog, they can tell you're a professional worthy of being trusted to help them.

The more people you can reach, the higher your chances of getting in contact with the right people. Social media allows us to connect with many people. But to connect with the right people looking for precisely what you have to offer, search engine-based marketing content is king.

Content marketing for real estate agents also needs to focus on building brand awareness. This is important because we humans have an associative mind. If people see your content frequently enough, they will associate you or your company with quality and consistency.
How to create content for real estate?
There are all kinds of content on the internet serving the purpose of business success, and real estate content is no different from them if we look at the core mechanisms. Content for real estate agents can take many shapes, and as a rule, it's better to use them simultaneously.
Newsletters, blogs, social media, or a Youtube channel are all great for reaching potential customers with your content. Before we get to the details of strategies for each of those, there are a few things to keep in mind before starting and at all times when creating content for real estate agents.
Consistency
Having a foreseeable schedule for posting your content is key for keeping your audience. This way, your content can become something people are looking forward to. This is especially true for newsletters, videos, and podcasts. If you start with, say, one youtube video per week, it's good to keep that tempo. It's simple: your audience gets used to it, and if you don't deliver, you disappoint. Inconsistency can also give off the message that you're unreliable. Even if you're not, human minds want comfort zones, and the truth is that if you're targeting bigger audiences, there's no going around that.
Targeting the audience you want
Content marketing for realtors has to always prioritize understanding the target audience. As a real estate agent, that audience will be potential buyers in a specific area. It's essential to keep their perspective in front of you, imagine yourself in their skin, and frequently ask, "what could someone looking to buy or sell be interested in?" Help them with your accumulated knowledge on the subjects related to buying or selling a home, finding rent, landlord topics, and everything related to a home, traveling, or moving. This is the essence of real estate content.

Take a look at a few popular and efficient ideas for creating real estate content:
Blog content for realtors
Blog content for realtors is a powerful tool to reach your target audience. Blog content can be used in various ways on other platforms to conduct traffic to your website. Social media is your right hand here. You can enhance your blog content with infographics, which are then easily distributable on platforms like Pinterest. This way, you connect all the different audiences from the different platforms to your blog. Once you get a taste of how it works, you will realize how powerful content for real estate agents can be.
SEO
A blog is one of the best forms of content marketing for real estate agents. If it is search engine optimized, it's even better. If you want to pop out and be on the front page of Google, quality blog content with SEO is a must-do. Well-written content for real estate agents, containing keywords and phrases people might be looking for, will rank your website better, ensuring a dominant position in Google search results.
Plan and schedule
Planning your content will significantly benefit your business. Schedule the posts, and do everything you can to meet the deadlines. This way, you ensure the continuous flow of content, which is crucial in building and keeping your audience. Blog content for real estate agents should always have consistency.
Topics for real estate content
If you're thinking, "ok, but what should I write about?", these content ideas for real estate agents might inspire you. Everything house-related works, from housing trends to interior design ideas. Relocating, home maintenance and lifestyle are popular blog topics, but your audience might also want to read something kid-related or about exciting hobbies. People often search for recreation ideas in a specific location, and educative articles on a topic you're knowledgable about are good, too. You can provide helpful content about listings in your area or help with deciding if renting or buying is the better choice in different circumstances and walks of life.
Ideas of content for real estate agents are literally endless. Depending on the profile you want to build, choose your topics well, and get creative!
Video content for realtors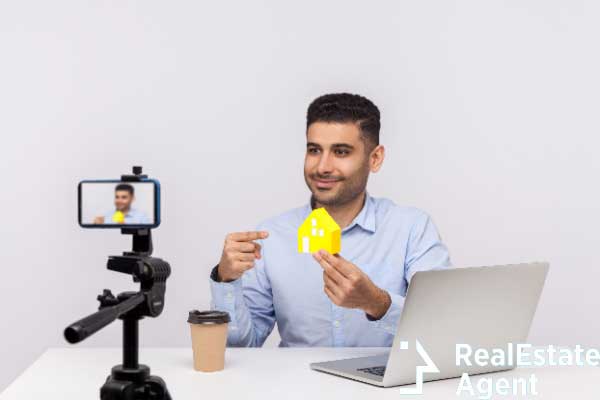 If you want to stay in the game, it's handy to learn what creating quality video content for real estate agents is about. Video tours are a must-have if you want to do business. 73% of people looking to buy a home prefer working with a realtor who provides video tours.
But a recorded property listing video will not help you in itself. You must upload it to channels with traffic to get it out there for potential clients to see. Social media, email marketing, your own well-built website, and real estate platforms like RealEstateAgent.com will make your work more efficient.
Video content ideas for real estate agents include video tours, property promo videos, neighborhood reviews, real estate advice, and Q&A videos, just to name a few.

Investing in quality equipment and tools will make your videos pop out and save you the headache of hours of editing work. As a rule, stay reachable and interactive with your video content too. The goal is always to open the doors for potential clients to comfortably reach out to you. You don't want to be just another talking head.
What to post as a real estate agent?
As a real estate agent, you connect buyers with sellers. Your posts should be helpful to those people seeking help. As a rule, it's important to keep your profile professional. This means that morning selfies go on your personal profile. If you share personal content, it should have something to do with the subject of real estate. Remember that you are trying to build a community around your brand, and your followers expect real estate-related content from you. So stay legit and be a reliable source for your community.
Social media content for realtors
As one of the best sources for real estate leads, investing a little more time and energy in social media marketing strategies will guarantee better results.

Social media content for real estate agents can be the place to show off your knowledge in the field. Being active on social media is one of the most organic ways of engaging with your audience and building relationships. Consistent presence will help you grow your account. These marketing strategies focusing on presence and engagement will ultimately grow brand awareness in the community you work in, resulting in more sales. Speaking of the crucial role of presence, here's a tip: videos work best on social media.

What to post on social media as a realtor?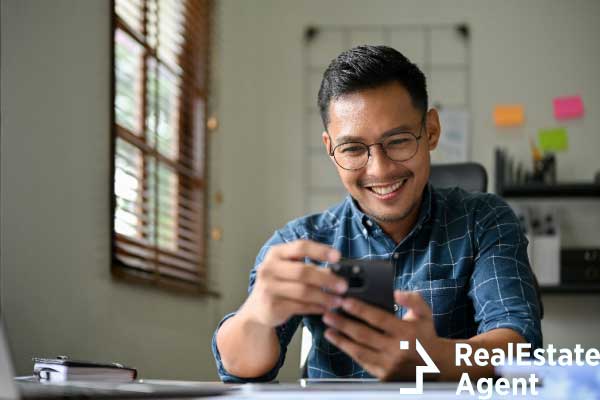 There's no fixed recipe for good social media content for real estate agents, but there are a few simple content ideas for real estate agents to help you flourish for good. The essentials are the following:
Listings. Social media is perfect for sharing new listings. Always caption the posts, don't just throw them out there. There's no shame in re-sharing after a while.
Video tours. Videos are much better than photos with getting to feel the vibes of a home. People prefer to work with agents who offer video tours. If you really want to impress potential customers, invest in a drone.
Tips for buying or selling. What is obvious to you might not be obvious to everyone. Share that knowledge, and help people make informed choices.
Neighborhood reviews. Many people need these guides, especially when moving from a different city. Your expert insight on prices, demographics, and amenities can be vital in helping people make decisions.
Market insight. Buyers and sellers need to get informed of the current market situation. Infographics are good, or you can make a short video that is more personal and takes less time to make
Interior design and makeover ideas to add value. People buying usually make some sort of transformation to the home, so design trends will always have their place. If a home you sold gets renovated, before and after pics have a great effect. Homeowners frequently remodel to increase the value of their homes before selling.
Real estate newsletter
Content marketing for real estate agents can take the shape of real estate newsletters carefully designed to engage your audience. E-mail newsletters haven't gone out of fashion. On the contrary! Newsletters are having a kind of renaissance. Email marketing is an excellent form of interacting with your audience in a more personal tone.

Crafting a good, engaging newsletter is not a piece of cake, though. Even if you send out thousands of them, a good newsletter has to engage with each recipient as if you were reaching out to only them. An email newsletter makes connecting with your target audience much easier and more natural. Email marketing content for realtors can be a channel for sharing information through first-person stories on local-specific subjects in a particular area. It's all about keeping your clients, leads, and audience engaged. Implementing your knowledge to make buying or selling a home a pleasant experience for clients will contribute to your good reputation - which is also an invisible yet powerful tool in the long run.
Don't forget the website
If you are planning to do blogging - and you should, because blogging is one of the best forms of content marketing for real estate agents - a very good website user experience is crucial. Invest in building a professional website, as this is the place where you want the traffic. It should be visually catchy, and user-friendly. You don't want your potential clients getting angry for not being able to find instantly what they are looking for on your webpage.

Use available resources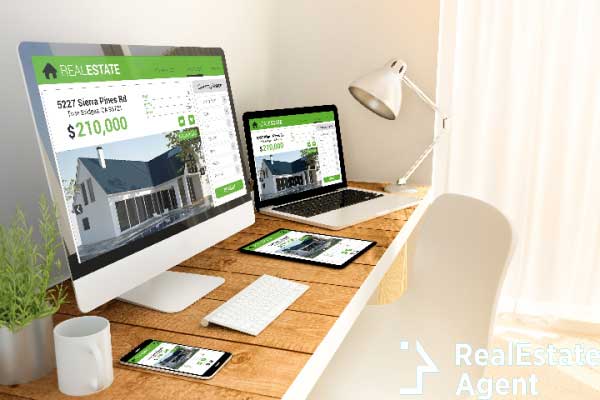 If all of this only makes you feel overwhelmed or creating content looks like an unclimbable wall to you right now, don't worry. You're not alone. The truth is that creating content material is not for everyone. Although some of us are naturally inclined to share things and be constantly present online, many of us can't do this for various reasons. And the main reason is that many agents work night and day and don't have the time and extra energy to come up with fresh ideas and create content. In fact, if you want a blog, a youtube channel, a newsletter, and an uninterrupted presence on different social media platforms, you will probably need help, as that amount of content takes a lot of time to produce, at least in the beginning. But no worries, because even the top businesses use available resources like the ones RealEstateAgent.com offers to help with different kinds of original content for realtors. Content creators at The Official Real Estate Agent Directory® are specialized in the real estate field and offer well-documented, inspirational content. "Outsourcing" content creation for your business is nothing new, and most successful businesses use this resourceful tool to achieve traffic and increase their sales.
To wrap it up
There are so many content ideas for real estate agents, as content in real estate is a very colorful and flexible thing. The more platforms you dominate, the better your sales, so it's good to learn how to get the best tools of the internet. But content for real estate agents is also about the personal factor of connecting with your community, getting to know people, and helping with providing up-to-date information for the ones who need it. Reliability and quality go a long way in building your reputation, and ultimately your career as a real estate agent.