Open Listings, Net listings, Exclusive Right to Sell Listings, Exclusive Agency Listings, Dual Listings… feeling you're getting drowned by so many different types of Listing Agreements?
Fear not!
We are here to help!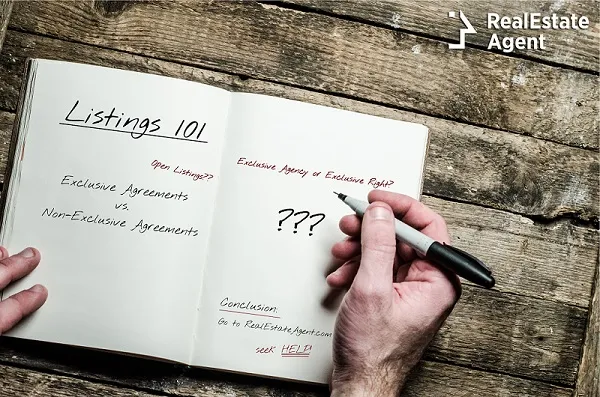 First thing you need to understand is that a real estate listing agreement (or just Listing) is the employment contract a home seller makes with a real estate agent (or broker) in exchange for his/her professional services. In short: Listing is an arrangement made by agent or broker officially responsible for everything related to the sale of the home seller's property.
Where it starts to get tricky is when we start to divide the real estate listing agreements by their nature:
EXCLUSIVE LISTING AGREEMENTS:
When an Agent or Broker has the sole rights to market and sell your house, we call that an Exclusive Agreement. But however amazing is his/her network, what if he/she doesn't find someone willing to buy the house amongst his/her own clientele? Thinking of that, Brokers and Agents created long ago the Multiple Listing Service (MLS). The Multiple Listing Service (MLS) is a system where Agents or Brokers that have Exclusive Listings Agreements - let's call them "Listing Agents" or "Listing Brokers" - make the property's information details available so that other Brokers or Agents looking for properties to buy for their clients - let's call them "Buying Brokers" or "Buying Agents" - can find them and pitch them to their home buyer clients. The Agent or Broker that puts the property on the Multiple Listing Service (MLS) agrees to pay a part of his commission to the Buying Agent or Broker.
But what if you find someone to buy your house regardless of the work of those Agents/Brokers? To settle this, there are two types of Exclusive Agreements:
- Exclusive Right to Sell Listing
In the Exclusive Right to Sell Listing, the Broker or Agent wins his/her commission even if he/she wasn't directly responsible for the sale. At first read, you must be thinking "Why would someone choose the Exclusive Right to Sell Listing? It makes no sense!". But it kind of does. Well established Brokers/Agents bring credibility to the sale of your property; and that has a value, right? Also, their work goes beyond prepping the house for the sale and finding the best offer. The legal paperwork can be painful: having a professional advisory can actually save you more money than the commission he/she asks for. To understand the Exclusive Right to Sell Listing in depth, take a look at our Glossary Terms.
- Exclusive Agency Listing
Different from the Exclusive Right to Sell Listing, if you decide to go with the Exclusive Agency Listing Agreement, you will retain the possibility of not paying the commission to your Listing Agent or Broker. But only if you found the home buyer with absolutely no help from the Listing Broker or Agent. To get a better grasp on the Exclusive Agency Listing agreement, check out our Glossary Terms.
(Within these two types of real estate listing agreements there are several unfoldings - like Net Listing, Option Listing and Dual Listing. If you want to dig deeper, feel free to check them out within our extensive Real Estate Glossary)
NON-EXCLUSIVE LISTING AGREEMENTS:
Did you notice that in both the Exclusive Right to Sell Listing and the Exclusive Agency Listing, the Listing Brokers or Agents are allowed to choose how they go about their sale process? It is up to them if they divide and conquer, or if they do it all by themselves. In a way, you are handing over to them the strategy of the sale; as you should, after all they are the pros, right?
But… if for any reason you decide you want to diversify the strategy and work with several agents at once, you can also try a Non-Exclusive Agreement:
- Open Listings
While, in the aforementioned real estate listing agreements, the Listing Brokers/Agents would compete at best with the Home Seller (in the Exclusive Agency Listing), with Open Listings it's almost "every man for himself": whoever brings an acceptable offer first, wins the commission. And if you bring it yourself, just like in the Exclusive Agency Listing, there's no need to give anyone commission! It's almost as if you're the Listing Agent/Broker! Can't go wrong with Open Listings, right? Everyone trying to sell your house and if you do it on your own, more money in your pocket! Hooray, Open Listings!
Well… not really. Open Listings are actually risky because the load of promoting your property to agents and brokers is on your back. You might say "Well, I don't have access to the Multiple Listing Service (MLS), but I have the Internet! My e-mail will charm Agents everywhere!" and that may be true, but be aware that many agents and brokers shy away from Open Listings because of its uncertain outcome. "So what?! Even better! I'll get their commission for myself. I make killer flyers and cookies; home buyers will be rounding down the block!". Okay, but also consider that the optics of an Open Listing can be perceived by the home buyer as a sign of weakness and you wouldn't want to have the Fair Market Value of your home lowered, right? If you want to read more about Open Listings and understand if it's the best option for you, check out our Glossary Terms.
To finish our Listings 101, the most important thing you should keep in mind regarding any type of real estate listing agreement is that, like the name says; it is an agreement. No party can force another to choose a specific kind of listing. Truth is that if one of the two is adamant about something, not willing to find a middle ground; maybe it's best to part ways. A home seller and its agent should both be happy with what they're getting out of their partnership. That's the beauty of the real estate world: there are plenty of fish in the sea and one is bound to swim with you. If not, maybe it's a good time to re-evaluate your role and/or expectations regarding that relationship: you can always try the rough For Sale By Owner (FSBO) route. Good luck!
If you don't have an agent or a broker yet, feel free to use The OFFICIAL Real Estate Agent Directory® and find the best one suited for you! If you're going the For Sale by Owner (FSBO) route, this article might be an interesting read: Finding Your Real Estate Niche: For Sale By Owner.