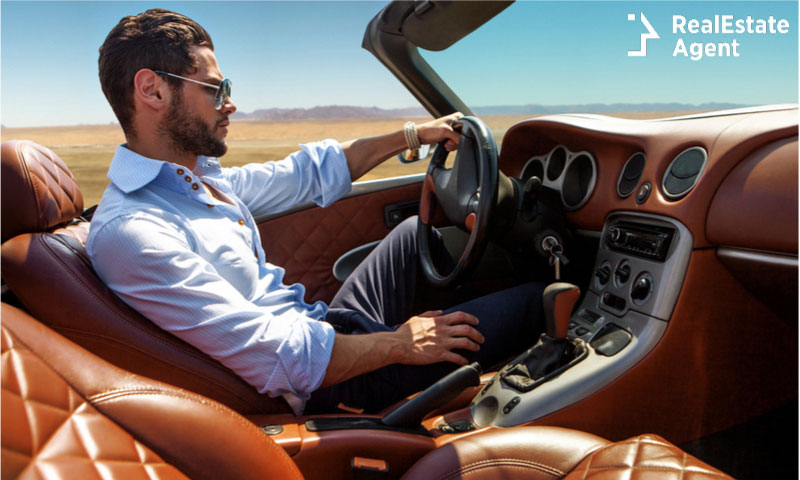 Okay, we know this question is quite strange. So, is there a link between real estate and cars? Really? What do cars have to do with an agent's ability to sell a house? Well, you may fall into the trap of thinking that a nice car can propel your real estate career. To some extent, you are right. Clients can be naive. However, if we were in their shoes, we would probably have the same thinking pattern. An agent who gets off a luxury car may be perceived as more competent and successful. In this article, though, we would like to shed light on this topic and help you pick the best car to impress clients.
Do you need a car to be a real estate agent?
When you chose to become a real estate agent, you must have taken into consideration the fact that you were not going to stand still at your desk all day. In this industry, you have to be on the move, constantly doing something to keep your business going and growing. So, besides the marketing activities that bring you new leads, you also have to search for properties and visit them together with the interested home buyers and renters. Not having a car or no longer being able to drive is one reason why real estate agents get out of business.
Therefore, you can't rely on public transportation all the time. Besides, many homes might be in the suburbs, where without a car, you are left with very few and costly options. (Rest assured, though - hitch-hiking is not among them.) So do you need a car to be a real estate agent? Absolutely yes. Get your driver's license first and if your real estate brokerage doesn't have a car ready for you, buy one. For real estate agents, the car is like any other tool of the trade - you can't reach your highest potential without it. The last thing you want is to turn clients down because you can't get to their address simply because they are too far out of town. And how would you sound if you had to wait for someone to pick you up for a meeting?
Why do you need a car as a real estate agent? Well, the reasons are quite obvious. Who can live without one these days? In the US, 272.5 million cars have had an owner in 2017. It seems that every adult in the US drives a car, however, there are many households with more than one car. Another question that may arise is, "Should you have a separate car for your business or can you use the family car to drive around for business purposes?"
It is a good idea to have two cars as a family. If you're just starting out, don't put too much emphasis on the car you drive. Don't fret over the best car to impress clients. Focus on learning and invest in yourself. Invest in marketing! Once you become successful, you will be able to drive a more expensive car and work with a different type of clientele that you couldn't have reached before. Driving a nice car that you can afford is a way of proving your success after all. So, upgrading your car is one way of securing more commissions in the future.
And another piece of advice for rookie REALTORS® would be to buy a used car first, especially if they also have a mortgage to pay every month. Don't put too much pressure on your finances by leasing a car. After all, cars don't last forever and in just a few years, you will be able to replace it with a better-looking one.
Real estate agents need a car for the following reasons:
They have to drive around the city quite a lot
They have to meet with clients as well as with other real estate professionals in different places throughout the day
They can't waste time relying on the public transportation network
They need flexibility and a car provides just that
They use the car to make money so they can deduct some expenses related to it and lower their taxable income
They may use the car to advertise their business with a nice car wrap
They can also pick up the clients when visiting properties, thus getting to know each other better
Why do so many real estate agents drive nice cars?
As we said earlier, clients are often struck by the first impression. But it depends on the real estate niche you have chosen. A luxury car may help if you're dealing with high-end clients in upscale neighborhoods. But if you're focusing on affordable housing for an average person, then driving an expensive car may intimidate your clients, making them think that you are not the right match for them. Some clients may want to feel that you are all on the same level. Sometimes, an ostentatious appearance is a turn-off. It doesn't foster communication.
But real estate agents drive nice cars not because they want to show off, but simply because they can afford them. After tightening the belt for years, they now enjoy a well-established place in the real estate market, good reputation, and many positive reviews. And how did they get there? By listing their business on RealEstateAgent.com among other things. If you take your real estate career seriously and your name doesn't come up in searches on The Official Real Estate Agent Directory®, then you are losing valuable leads. Find out how to take advantage of the REA Directory and call us today at 1-866-495-4953. We will help you choose the right marketing plan for your business.
The best car to impress clients
Every year, car manufacturers have a new model release, a new alphabet letter and a higher digit attached to it. Even if you purchased a car last year, it is already old and outdated. It fades in front of the latest model, although it may still look modern and luxurious. Who can buy a new car every year? Well, that's not the point. To impress clients, all you need is a clean car. And if you carry yourself in a professional manner, you stand very high chances of being hired by your client, thus making more sales.
However, most people like to do business with "their kind of people", so when meeting with a client, try to understand their expectations, and if you feel that your car may suggest that you are overcharging, rent a car for one day or use a relative's to maintain a low profile. At the end of the day, your job as a real estate agent is not to impress your clients with your possessions, but to help them buy, sell or rent their home.
Top cars for real estate agents
Of course, we could give you plenty of brand names and outstanding models but, as you know, these will be considered old in a few years so we would have to update this article every year. You probably know what a luxury car looks like. It's probably a BMW, an Audi or a Lexus. However, the top cars for real estate agents stay somewhere in the middle - not too cheap that you would feel ashamed to drive it on the streets, but not too expensive either.
Nevertheless, we can help you decide by revealing which brand sold the most cars in 2018 and that is Ford. According to Statista, Ford sold 2.3 million cars last year, followed by Toyota at 2.2 million and Chevrolet at a little over 2 million units. However, consumers seem to have more trust in the cars that proudly carry the logo of Lexus, Volvo or Subaru, according to the USA Today.
Pickups are also very popular in the US and seem to last longer. Ford sold a record number of 797,238 SUVs in 2018, especially the F-Series. Ford Fusion and Ford Escape were also in high demand. Other cars that you can spot quite frequently are Toyota Camry, Toyota Corollas, and a few models from Honda such as Accord and Civic. What makes the last two brands so popular? The fact that they offer affordable cars that are easy to purchase by people from all income levels, regardless of their credit scores.
Don't let yourself be deceived by the popularity of a certain brand. Since you'll spend a lot of time on the roads, a low fuel consumption is of utmost importance. According to motor1[dot]com, the top three models that carried you furthermost with only one gallon of fuel were Mitsubishi Mirage, Chevrolet Cruze Diesel Sedan, and Toyota Corolla Hatchback.
However, if you are a fan of Tesla, the company has sold over 150,000 vehicles so far, this year. For example, Model S is priced at $70,115 and can be yours with only $2,500 down if you can afford to pay about $1,000 per month on a loan or $824 on a lease. Tesla is for sure among the best cars to impress clients.
As your real estate business thrives and brings you more and more commissions, feel free to grow your luxury car collection and enjoy their horsepower when you're not working. For your everyday meetings, though, try to maintain a balance between your car and your level of professionalism. There is no point in driving an expensive car when you're just starting, still trying to get a hold of this huge and dynamic industry. Choose wise and drive safe!