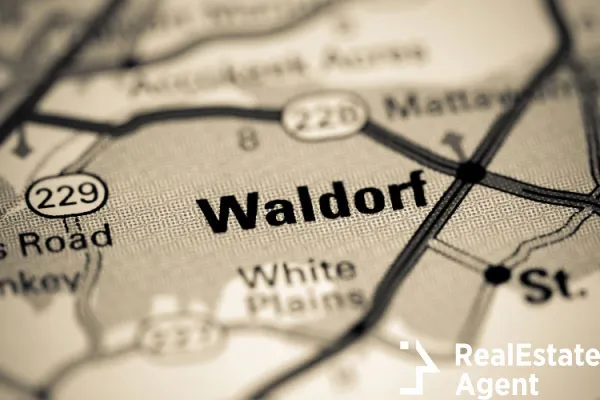 Nestled in the heart of Charles County, Maryland, lies the city of Waldorf. Beyond its charming facade, Waldorf holds a rich experience of history, exploding growth, and lasting community spirit. Waldorf started with humble agricultural beginnings but transformed very fast into the bustling suburb it is today. Waldorf has evolved into a thriving hub, seamlessly blending the tranquil bits of the agricultural past and the suburban growth of the present.
Through Waldorf's history, we uncover a story of transformation. Once a quaint rural settlement, it has undergone remarkable development, attracting an influx of residents seeking a harmonious blend of suburban tranquility and urban convenience. Its population has grown exponentially throughout the years, and Waldorf has embraced the boom with open arms, fostering a diverse and vibrant community. In this article, we are going to delve into the story of Waldorf, uncover bits of its past, and take a look at its present.
Where is Waldorf?
The city of Waldorf, MD, is located in Charles County, in the southern part of the state. It is positioned approximately 23 miles south-southeast of Washington D.C., making it part of the Washington metropolitan area. The community enjoys a strategic location with easy access to major transportation routes, including Maryland Route 5 and Maryland Route 301. Living near a highway provides convenient connectivity to nearby cities and towns for residents. Waldorf is also close to other urban centers like Alexandria, Virginia. Living in Waldorf, MD, offers residents the benefits of an excellent location. Waldorf has the advantages of a suburban lifestyle while remaining within commuting distance of employment and cultural-recreational opportunities in the region.
Waldorf, Maryland - population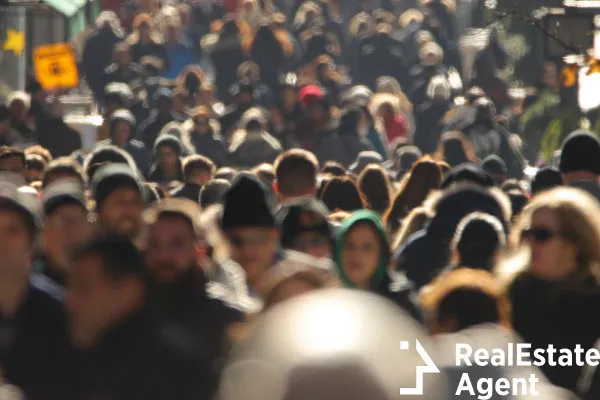 The city of Waldorf, MD, has experienced rapid population growth over the years, transforming from a small rural town of a few inhabitants into a bustling community in the Washington D.C. metro area. The increase in population can be attributed to several factors, including its proximity to Washington, D.C., and the affordable cost of living and housing options it offers.
The city of Waldorf, MD, is anything but ordinary when it comes to population. The community has witnessed remarkable growth since 1980, when it had fewer than 5,000 residents. Living in Waldorf, MD, must have been interesting given that its population has multiplied 16 times since then. Today, Waldorf stands as the largest commercial and residential area in Southern Maryland while also keeping its character as an idyllic suburb in the Washington metro area.
According to the population estimates of the US Census Bureau, the demographics of the city of Waldorf, MD, showed richness and diversity. The population is 61.8% Black or African American, 25.2% White, 8.2% Hispanic or Latino, 6.7% two or more races, 0.5% American Indian or Native Alaskan; 3.6% Asian, 0% Native Hawaiian or Pacific Islander. The percentage of foreign-born residents was 9.4%.
In 2022, Waldorf had the second-largest African-American community in Southern Maryland, with 49,334 people.
The largest bedroom community in Southern Maryland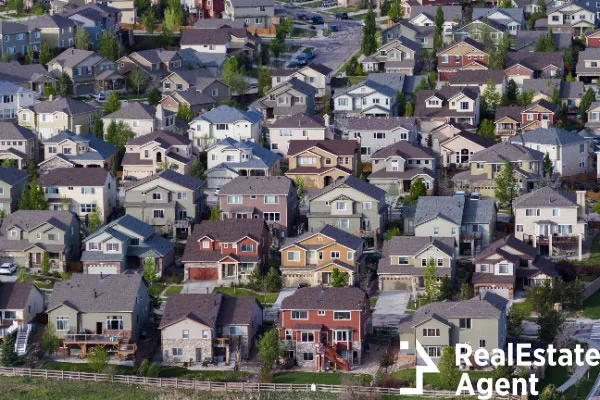 The city of Waldorf, MD, is often referred to as one of the largest bedroom communities in Southern Maryland. This is due to the fact that living in Waldorf, MD, has a primarily residential character. Still, Waldorf is not solely defined by its bedroom community aspect. Residents actively participate in local events, and there is a strong sense of community pride that can be felt from the vibes of the area. The following factors contribute to this residential feel Waldorf is known for.
Commuting patterns and residential development
Many residents commute to work in the nearby Washington, D.C., and the surrounding areas like Alexandria, Virginia, and surrounding suburbs. Due to its location, the city of Waldorf, MD, has become a residential choice for those seeking housing options at a more affordable average home value. Over the years, Waldorf has experienced significant residential development to accommodate the growing number of commuters. Subdivisions with single-family homes, townhouses, and apartment complexes have been constructed to meet the housing demand for living in Waldorf, MD. Also, growth comes with the appearance of investors, and Waldorf has seen a demand for properties for investment, too.
Affordable housing and demand for a suburban lifestyle
Compared to the higher housing costs in the urban centers, Waldorf offers relatively more affordable costs of living and housing options. This affordability attracts many individuals and families who prefer larger and more affordable living spaces while still having access to urban opportunities. The median sale price of a home in Waldorf is $410,000 currently, while in Washington, D.C., it's $675,000. If you're interested in relocating, local realtors in Waldorf MD can help you with fresh information about real estate-related questions.
Life in the city of Waldorf, MD, provides a pleasant suburban feel, with well-kept neighborhoods, parks, good schools, and a broad range of amenities. Residents enjoy a more quiet and family-friendly environment compared to the hustle and bustle of the big city.
Best neighborhoods in Waldorf, MD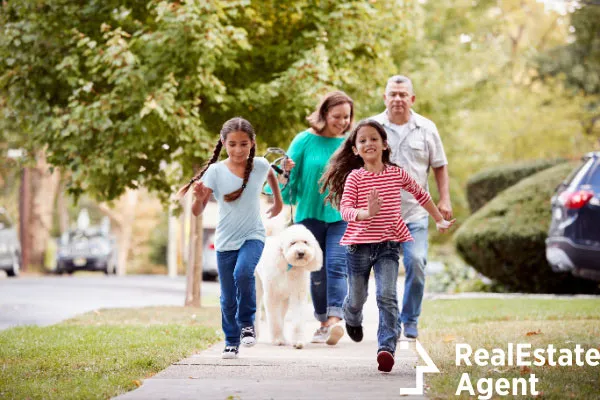 The city of Waldorf, MD, has several neighborhoods that residents highly regard for their desirability and quality of life. Some of the most sought-after properties are located in these neighborhoods.
St. Charles
St. Charles is one of the largest and most popular communities for living in Waldorf, MD. It offers a range of housing options, including single-family homes, townhouses, and apartments. St. Charles features well-groomed streets, great parks, and outdoor opportunities. There is easy access to community centers and schools. The community is also known for having a focus on sustainability at home and in the community plus it offers various recreational activities.
Fieldside at St. Charles
A newer development within the larger St. Charles community, Fieldside features a mix of single-family homes and townhouses. The neighborhood is known for its attractive architecture, well-manicured streets, and a broad range of amenities like playgrounds, parks, and walking trails.
Pinefield
A well-established neighborhood in Waldorf, MD, Pinefield is known for its spacious single-family homes and tree-lined streets. The community has a peaceful and suburban atmosphere, with amenities such as parks, playgrounds, and nearby shopping centers. Pinefield is highly regarded for its sense of community and convenient location.
North Pointe
North Pointe is a newer Waldorf neighborhood characterized by modern single-family homes and townhouses. It offers the amenities of parks, trails, and a community center. The neighborhood is known for its family-friendly atmosphere ad proximity to schools and shopping centers.
Hampshire
Hampshire is a popular neighborhood in Waldorf, offering a mix of single-family homes and townhouses. The community features amenities like parks, walking trails, and a swimming pool. Hampshire is known for its well-kept properties and convenient location near shopping centers and schools.
Things to do in Waldorf, MD
Historic sites to explore
The city of Waldorf, MD, has a surprisingly rich history, with many attractions standing as testimonies of the past. While Waldorf might not rank among the most historic cities in the US, a few places offer excellent destinations for history buffs to explore.
Thomas Stone National Historic Site
Situated about 13 miles southwest in Port Tobacco, the Thomas Stone National Historic Site is a monument to Thomas Stone, one of the signers of the Declaration of Independence. "Harberdeventure", his home, is part of the site and is open for exhibits, guided tours, and interpretive programs that share information on Stone's life and legacy.
Smallwood State Park
Smallwood is just a short drive from the city of Waldorf, MD. The park is located on Mattawoman Creek, but it offers a little more than natural beauty. The General Smallwood Plantation, a National Landmark, is to be found here. Visitors are invited to explore the plantation house, visit the former home of General William Smallwood, and learn all there is to know about the site.
Opportunities for outdoor recreation
The city of Waldorf, MD, and its surroundings offer ample outdoor opportunities for nature lovers and outdoor enthusiasts. Here's a list of popular destinations in and around Waldorf.
Indian Head Rail Trail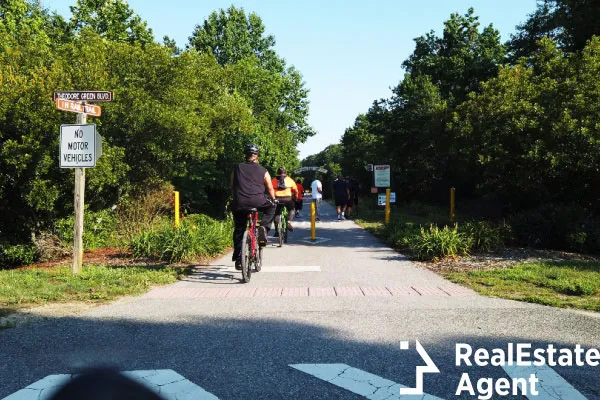 Located right near Waldorf, the Indian Head Rail Trail is a 13-mile paved trail ideal for walking, jogging, biking, or any other outdoor sport. The trail winds through scenic landscapes, including forests and wetlands, and provides a peaceful and enjoyable outdoor experience.
Smallwood State Park
Situated on Mattawoman Creek, Smallwood State Park offers a broad range of outdoor activities. It features a marina, boat ramps, and a fishing pier, making it an excellent spot for boating, fishing, and water sports. The park also has picnic areas, hiking trails, and campsites for those who want to enjoy more time outdoors.
Exploring different ecosystems
Nearby parks, such as Chapel Point State Park and Purse State Park, offer trails that lead through diverse ecosystems, including forests, wetlands, and waterfront areas. The city of Waldorf, MD, and its surroundings offer rich and various hiking opportunities and nature trails. Those living in Waldorf, MD, have the advantage of having access to a broad range of outdoor opportunities.
Culture and entertainment in Waldorf, MD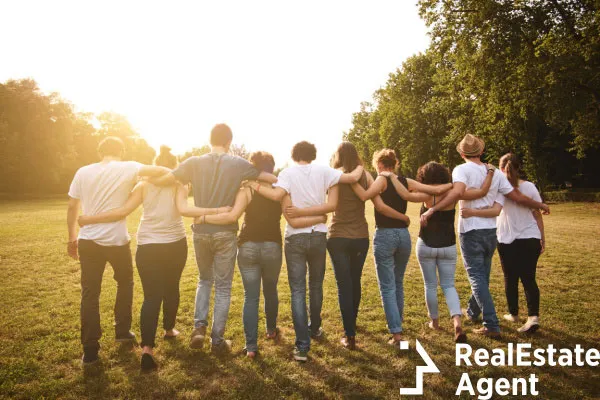 Waldorf, MD boasts a diverse and vibrant cultural scene that enriches the lives of its residents. The community embraces the arts, music, and local traditions, fostering a sense of creativity and expression. Throughout the year, Waldorf hosts various cultural events, including art exhibits, live performances, and festivals showcasing artists and performers. Music lovers also have ample opportunities to enjoy live performances, as the city of Waldorf, MD, features concert venues and hosts music festivals covering various genres. The community also supports local theater groups, offering theatrical productions and stage performances. There are many other cultural events for residents living in Waldorf, MD, to enjoy. Those highlight different traditions, cuisine, and customs.
Waldorf does not have a traditional downtown area in the same sense as some other cities. As a suburban community, Waldorf's layout is characterized by a dispersed residential and retail development rather than focusing its energies on a downtown core. Instead of a central arrangement, Waldorf features several shopping centers, plazas, and business districts spread throughout the community.
In conclusion,

The city of Waldorf, MD, stands as a thriving community that has experienced significant growth in population. It has evolved from its humble agricultural beginnings into a large suburban area with a rich history. From tobacco farming to the rise of the gambling era, living in Waldorf, MD, has never been boring. So, is Waldorf a good place to live? Today, the city is known as a great suburban place to live with a strong sense of community. The proximity to Washington D.C. and the surrounding major cities make Waldorf a tranquil oasis that has the benefits of a broad range of amenities. Its location makes it easy to reach nearby cities, The District, and the many historic sites in the area, making Waldorf, MD, an affordable and sought-after community to be part of.