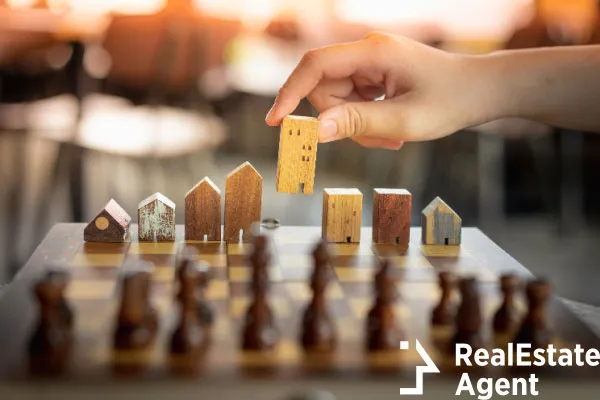 Everybody is excited to own their own home, but only some have the chance of actually getting there. Real estate has always been an exciting and lucrative industry, attracting individuals with a keen eye for investments and a flair for strategic thinking. On the other hand, playing games is a trendy pastime activity regardless of age. Why shouldn't we combine these two passions? Deal or no deal? Let's unleash the best real estate games, the genuine and one-of-a-kind realtor edition!
Why won't you put your real estate gaming experience into practice?
You may need help navigating the complexities of the real estate market. Still, there are innovative solutions allowing enthusiasts and professionals to delve into this realm and sharpen their real estate skills. We're talking about real estate board games, real estate video games, real estate games for PC, and real estate learning games.
Suppose you're set to build your own real estate empire. In that case, the first thing you should do is obtain a real estate license. And, because knowledge without experience is insufficient, contact an established local real estate agent! Trust us; you can't gain that knowledge, not even from the best real estate games. Experienced realtors will bring you up to speed on the pros and cons of being an agent. Moreover, they might tell you about the games realtors play passionately.
The top real estate games available in the United States provide immersive experiences. Players can test their abilities in buying, selling, and managing properties. Indeed, these games offer a unique blend of education (for instance, how to get more clients) and entertainment.
The top real estate board games
Old-school real estate board games will never become outdated! You can visualize the game's rules better than during real estate games online while monitoring your opponent's reactions. So what's stopping you from dipping your toes into real estate with these exciting board games?
Monopoly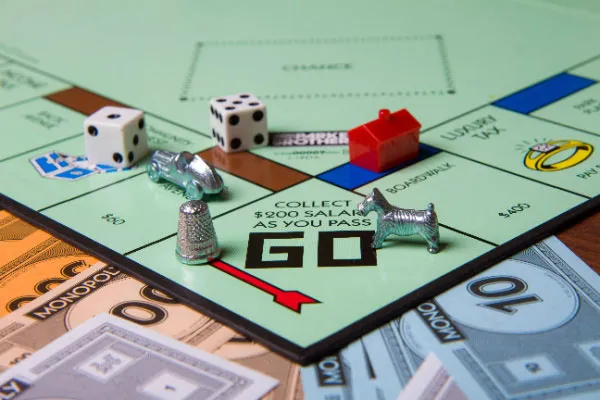 No list of real estate games can be complete without the iconic Monopoly. Did you know it was developed in the early 20th century (published by the Parker Brothers in 1935) and still going strong? Monopoly has become a real estate board game industry staple and a genuine household name.
You must accumulate wealth and monopolize the market by strategically investing in properties. So buy, sell, and trade assets (just like central banks and corporations do in the money market!). Monopoly is accessible to players of all ages. Its enduring popularity is a testament to its ability to captivate and entertain.
Cashflow
Robert Kiyosaki wrote the renowned finance book "Rich Dad Poor Dad," and created one of the best real estate games. That's an astonishing achievement! Cashflow is an educational real estate board game aiming to improve your financial know-how. Under such circumstances, Cashflow is the undisputed leader of the real estate learning games.
Players can accumulate the fundamentals of real estate investing. By providing a riveting experience, Cashflow simulates real-world scenarios. You must make tactical decisions regarding investments, expenses, and marketing strategies. Also, you can't choose but take into account economic hardships, such as inflation and recession, while doing business.
You can't take your eyes off the screen playing these real estate video games!
Real estate video games offer a unique opportunity to discover property investment, development, and management without leaving your comfort zone. These are the games realtors play because they are genuinely immersive, and they can get an insight into the mechanisms of digital real estate.
So, let's build your virtual empire in cyberspace! Explore the best real estate games for pc available in the US!
The Sims Series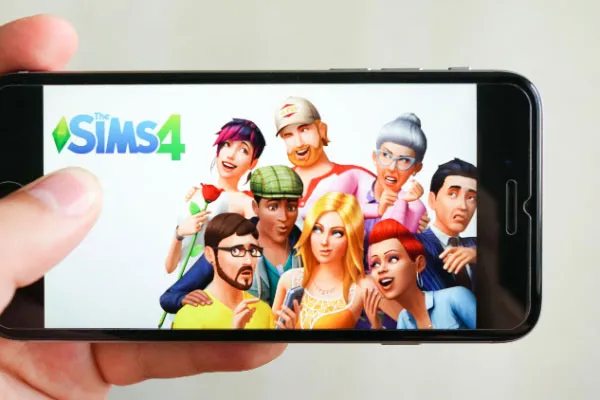 Everyone knows that "The Sims" series is the ultimate life simulation video gameplay that revolutionized entertainment. Besides the traditional wealth building and asset accumulation, The Sims enable players to build, manage, and stylishly decorate their properties.
Playing this excellent real estate video game, you'll learn how to design your dream home, construct commercial buildings, or rent apartments! Moreover, you'll practice your creativity and entrepreneurial skills! You can also choose expansion packs like "Get to Work" and "City Living." Therefore, this unique real estate video game gains an extra layer of depth and realism, adding to the experience.
No wonder "The Sims" has far exceeded its competition and become one of the best real estate learning games. We can now imagine how virtual real estate transactions are one step closer to our reality!
House Flipper
Did you know that the popularity of the best TV shows for realtors in the US has gone through the roof? The audience loves watching real estate deals and how a rundown property can be turned into a dream home!
Have you ever dreamed of flipping houses? Then, playing "House Flipper" should be your priority as it's one of the top-tier real estate games online! This mind-bending simulation game puts you in the shoes of a property renovator and investor. Thus, you can purchase, repair, and sell homes for a substantial profit.
First, you must apply strategic investing by selecting one from numerous properties. Secondly, clean up the mess left by the previous owners! Then, choose the right furniture and decorations! No shortcuts to hands-on renovation because every detail matters! Plus, the market will respond dynamically to your moves! This breathtaking real estate video game offers an adventure to remember! We bet this is one of those games realtors play all the time! All in all, House Flipper is one of the terrific examples of real estate games online you must load asap!
Real Estate Empire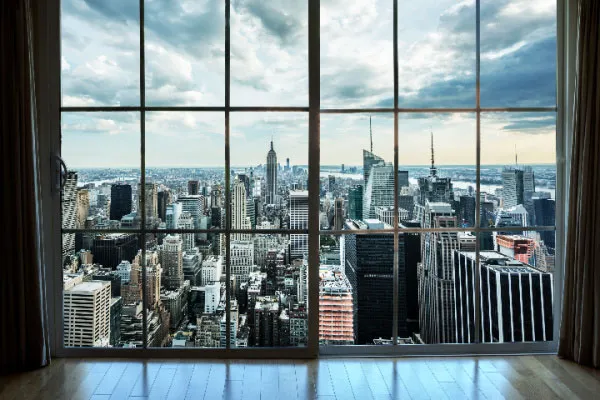 Real Estate Empire provides a more traditional real estate experience if you're into simulations of property investment. Your avatar is a real estate mogul, purchasing and selling homes and getting into the rental game, among others. As one of the most immersive real estate games for pc it features a colorful selection of affordable properties in different US cities.
What's so astonishing about this real estate video game? "Real Estate Empire" comes packed with detailed financial management tips and tricks. Plus, it makes you think about market fluctuations and realistic property valuation. In the end, everybody wins!
Real estate games for iphone
You can play realtor games even if you're not in front of your computer. In the digital age, you can choose to play real estate games for the iphone when at an airport, taking a break, or before sleep. The best real estate games designed for the trendiest smartphones have gained immense popularity. Agents and wannabe investors can indulge in the excitement of property transactions from their mobile devices.
Property Brothers Home Design
The famous and binge-worthy real estate show inspired one of the most fashionable real estate games for iphone. Property Brothers Home Design invites players to work with Drew and Jonathan Scott. The objective is to renovate and design stunning properties! Are you up to the task?
The game (available on Google Play) offers gorgeous customization options, challenging puzzles, and engaging storylines. Why don't you showcase your interior design skills and create breathtaking spaces to boost property values and earn rewards? Undoubtedly, its impressive graphics and addictive gameplay make Property Brothers Home Design one of the must-have real estate games online!
Home Street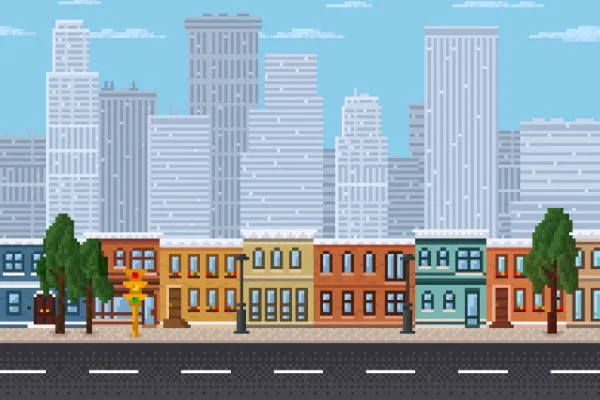 What's so unique about Home Street is that it combines real estate, design, and social interaction. You can create and customize your dream home and build relationships with virtual neighbors. Don't forget to attend social events, like garden and barbecue parties! Earn money by selling items and hosting the trendiest events!
Then, you can expand your property and explore a lively virtual community and the future of real estate. Home Street is one of those games realtors play because it provides a laid-back and socially-oriented phenomenal real estate gaming experience.
Landlord Tycoon

Landlord Tycoon definitely qualifies as one of the most addictive real estate games for iphone. Discover the perks of this location-based real estate video game! It uses authentic maps and property data to simulate a realistic property market. As a result, players exchange and trade virtual properties in their actual neighborhoods. You can end up with a unique experience of financing properties you are familiar with. Realtor games can't get any more lifelike than this!
You'll need to use your grey matter because strategic thinking is crucial to negotiate deals. Did we mention that you can compete against other players in multiplayer mode? Try to dominate the local market by expanding your property portfolio!
Landlord Tycoon delivers an exciting social gaming experience. So, it shouldn't surprise anyone that we rank it as one of the indispensable real estate learning games.
Conclusion
The best real estate games are genuinely ageless! The most visually-striking real estate games for PC or smartphone offer aspiring investors and folks from all walks of life a compelling adventure! Everyone can gain practical knowledge and experience in the dynamic world of investments.
You can vote for classic real estate board games (we will always love you, Monopoly!) or immersive real estate games online (there are no simulations like The Sims!) The best real estate games provide a safe and educational environment. You can learn about real estate transactions, property management, and investment strategies. For this reason, we call them real estate learning games. However, they're also ideal for strengthening the parent-child relationship. Plus, they can serve as a springboard for your future career as a realtor.
Truthfully, we can't name one single disadvantage against realtor games! The best real estate games in the United States leverage technology and incorporate real market data. Thus, gamers can make informed decisions, refine their skills, and embark on successful real estate transactions. So, why not start playing today?
What's your favorite real estate video game? Do you still play real estate board games? Please share your pick in the comment section below! If this article convinced you to get into gaming, give it a big like and share it on your social media profiles!