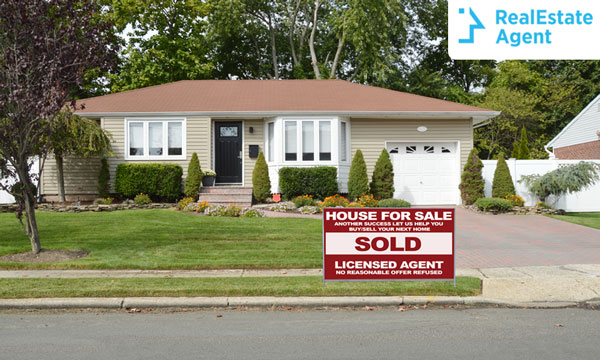 From time to time, homeowners wonder if it's the right time to sell their house. They look to the sky and say "God, if this is the right time to sell my house… just give me a sign!"
Well, we're not God, but here are FIVE signs you should sell your house:
All the neighbors are selling their homes
It's all about supply and demand. If you can't keep track of all your new neighbors; it's a sign that your area is in an increased demand, which makes your house value go up. Truth is that – if the change is that sensitive and your entire neighborhood is definitely going through gentrification – you've probably already received a couple of phone calls and knocks-on-the-door from real estate agents asking if you're interested in selling your house or just making that old school marketing technique of "hey, I'm just introducing myself". But, if you haven't; taken note, as it might be a sign that the area is not exactly improving. If the rotation is big and people do not stay put – for instance: your next-door neighbor moved in 1 year ago, and he/she is already gone – maybe you're dealing with a renter's market, and the decision is regarding whether selling your home or just relocating to another house so you can profit off of this one as a Landlord.
Don't get us wrong; if everyone is moving out, you still should do the same. Who wants to be in a place where there are no roots, where you never know who's by your side? However, there are ways and ways to do it. Sometimes, moving out but still accruing ownership is best, because you will profit from the rent and wait for the time that real estate market is at its hottest for home sellers. That's why its so important to work with real estate agents, as they will be able to read the situation for you so you can extract the best out of the obvious sign you should sell your house. Contact a local real estate agent; maybe he/she will even agree to do a home evaluation for free, and you'll be able to see if the amount they come up is worth you moving out.
Your house has more residents than rooms
Everyone deserves privacy and individuality is something fundamental to the upbringing of a person. If you live in a 2 bedroom home with 4 people in it – say a room for you and your spouse and another for your two children – it's a good sign that, if you can, you should move to a new more spacious house. Hey, let's exclude one kid out of the equation: even if it's one room for you and your spouse and another for your kid, having a spare room for enriching activities – like a library, a study room, a home office – can bring much value to everyone residing in the home. And what if you have guests? How do you accommodate them?
This is a big sign that you should sell your house. Not because of the financial side – in fact, this might be the most significant barrier here – but because, honestly, of your life. Sometimes we tend to look at real estate just as a business, but properties are not meant to be just bought and sold; they are meant to complement our lives. It's the place where, ideally, we spend the best of our time on this Earth. So, if we want to do better; it starts at home. By having a bigger house, we allow ourselves to be better hosts and connect more with friends and family from out of state. We give more room for our loved ones so no one feels enclosed in a tight space (which can always reflect on the relationship). We offer new doors and windows for all the residents to express themselves and do their own thing, improving their skills and knowledge. And, ultimately, the residents connect with each other more via the activities they can do together in the new pool, the fireplace, the TV room and whatever else you decide your bigger house needs to have.
Outgrowing the space available in your home is a big sign you should sell your house!
No home improvement left to make
You've done it all. First, you decided to increase your home value with these home improvement ideas. Watching the contractor doing all that stuff and seeing the benefits it brought to your house, you decided to get in on the fun yourself and went after some DIY home improvement to increase your home value. It was dangerous at times, but always rewarding; so much so that when Spring came, you brought home improvement outside of the home by putting into action some landscaping ideas to improve curb appeal. So… what now, that you basically did the triple crown of home improvement?
Now, it's time to sell. If you ran out of home improvements to make, it means your house is at its prime. Again, a real estate agent comes in handy, as he/she will be able to tell you your real estate market conditions at the moment. Sometimes it's best to wait just a tad longer because the market where you wish to live is not so affordable for home buyers right now? Well, if that's the case: no worries; your current house is super awesome and you will be able to wait in fashion.
You ran out of diplomatic tactics with your neighbors
Hey, don't underestimate the weight of a good neighbor. It can be a reason both to sell or not to sell a home. The biggest problem with neighbors is that you can't really tell if living next to them will be a dream or a nightmare until you actually do.
If you've tried every guide regarding how to reduce noise pollution , if you've tried everything in your power to reason with them and to suppress your own feelings about them… then this is also a good sign you should sell your house. It's not a matter of "if you can't stand the heat, get out of the kitchen", it's just that in the end, it's an eco-system. If you and your neighbors don't click, the whole neighborhood gets affected and, in a way, walks toward its devaluation. So what it is is a matter of being smart: if you can't reason with people who should be your friends and co-owners of a building or an area, then it's best to go find people with whom you can get along with better. It's that old phrase: when you see from afar one stupid person and one reasonable person yelling at each other it's hard to tell who's the stupid one.
You have money lying around
Have you paid enough of your current house mortgage that you're ready for a sizable home equity loan? Or maybe you're good with savings? If you have money to spare, it's not wise to just leave it there resting in your bank account. Real estate is a great way to multiply your money. You get a new, bigger house, pay the mortgage, and now your asset portfolio is worth much more. This is how a lot of people built empires in or out of the real estate Industry; by using housing/mortgage features that increased their credit and, over time, made hundreds become thousands, millions become billions etc. It's all about moving money, not keeping it still. By selling your home and getting a bigger, nicer house, your line of credit will go up, and so will the amount of the home equity loan you will be able to get: that means you can use this new and improved quantity of money and invest in education, a new business, or whatever your heart desires.
No wonder why there are so many celebrities in real estate these days; it's a wonderful investment opportunity that has been around for quite some time with amazing return to home sellers.
Independently of these 5 signs you should sell your house, to do it properly, find a real estate agent! Not having a real estate agent by your side is a sign the Home Seller is that protected or not fully committed to the sale of the property, and you wouldn't want that.